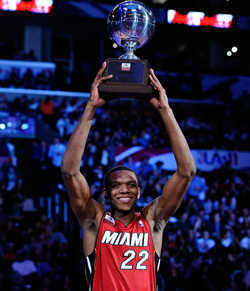 James Jones will look to defend his 3-point shooting crown.
(Getty Images)
Posted by
Ben Golliver
Update
: Atlanta
Hawks
guard
Joe Johnson
will sit out both the All-Star Game and the Three-Point Contest, due to
tendonitis in his left knee
. Oklahoma City
Thunder
All-Star forward
Kevin Durant
will replace him,
according to the Thunder
. Durant also participated in the 2011 Three-Point Contest.
--------------
Bombs away.
The NBA announced its field of six competitors for the annual Three-Point Contest, a Saturday staple of All-Star Weekend. This year's Three-Point Contest will take place at the Amway Center in Orlando on Saturday, Feb. 25.
The field includes Miami
Heat
forward James Jones, the defending champion, plus Heat guard
Mario Chalmers
, Minnesota
Timberwolves
All-Star forward
Kevin Love
, Atlanta Hawks All-Star guard Joe Johnson, Orlando
Magic
forward
Ryan Anderson
and New Jersey
Nets
guard
Anthony Morrow
.
Last week, Love revealed
that he would be among the competitors.
Chalmers leads this year's field with 46.3 percent 3-point shooting. He's actually not even the best 3-point shooter on the Heat, as
Mike Miller
is connecting on 52.1 percent of his tries, although he's only taken 48 through Tuesday night's action. Anderson is next at 42.1 percent (22nd in the league among
shooters with enough attempts
), Morrow is at 42.0 percent (26th in the league), Love is at 36.1 percent (63rd in the league) and Johnson is at 35.6 percent (65th in the league). Jones is shooting 40.4 percent from deep but hasn't hoisted enough threes to make the leaderboard. He would place in the mid-thirties if he had.
Here's how the competition works, in case you are new to the sport of basketball.
The players will compete in the two-round competition with the top three finishers from the first round advancing to the finals. Five shooting stations will be set up around the three-point line, with four Official Spalding NBA game balls worth one point each and one Spalding NBA All-Star 2012 commemorative "money ball" worth two points at each location. Each player will have one minute to shoot as many balls as he can. In the final round, players will shoot in ascending order of first-round scores. At the discretion of the referee, television instant replay may be consulted for clarification of rules compliance.
At 2011 All-Star Weekend in Los Angeles, Jones defeated a field that included Boston
Celtics
All-Star forward Paul Piece, Celtics All-Star guard
Ray Allen
, Oklahoma City Thunder All-Star forward Kevin Durant, Golden State
Warriors
forward
Dorell Wright
and Cleveland
Cavaliers
guard
Daniel Gibson
.