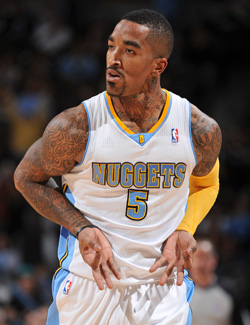 Are the Magic the top suitor for Smith right now?
(Getty Images)
Posted by Royce Young


J.R. Smith will be
returning to the United States sometime this week
and he's already eyeing a few teams.
Smith changed his Twitter bio to say
, "NYK? LAL? LAC? CHI? ORL? IND?
"
recently so that should give you an indication the directions he's looking.
But according to HoopsWorld
, The Magic might have the inside track to get the erratic scorer. The report says Smith is looking for more than a veteran minimum deal and that the
Pacers
are not interested back in Smith. And if Smith wants more money, that would eliminate the
Clippers
and
Lakers
as well as they can't offer more than the vet minimum.
That puts the
Knicks
with the ability to offer the $2.5 mini-mid-level deal and the
Bulls
who can offer a $1.9 bi-annual exception. The Magic though can offer the most -- about $4.9 million -- but don't necessarily have a spot for Smith, especially if he wants to start. Orlando already has
Jason Richardson
and
J.J. Redick
while Smith could likely start for the Clippers, Bulls (depending
Richard Hamilton
's health) or Knicks.
Earlier in the week via ESPN LA
,
Chris Paul
said he likes the Clippers' chances of nabbing Smith.
"I think our chances are very high," Paul said Monday night after the Clippers' 96-92 loss to the Dallas Mavericks.

[...]

"Who knows J.R. better than me?" Paul said of Smith, his teammate for two seasons with the Hornets.

Referring to Kenyon Martin and Billups, both of whom played with Smith in Denver, Paul attributes his optimism to "my relationship with J.R., Kenyon's relationship with him and Chauncey's relationship with him."

"Also he knows he'll have the opportunity to play here," Paul said. "He can only make us better."
Acquiring Smith really could almost be like a good deadline trade, but without having to give up anything. He's going to make an impact on the court, but it's just a matter of where he chooses. He's got teams ready for him, but it's up to Smith to go for money, a contender or a prominant role. There really isn't an ideal fit in that regard right now, at least in terms of teams Smith is interested in.
But a decision should be coming soon. So hang tight.