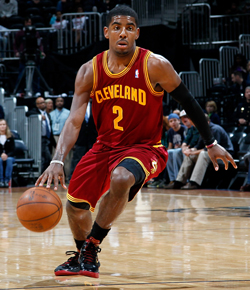 Kyrie Irving has been cleared to return after suffering a concussion.
(Getty Images)
Posted by
Ben Golliver
The Cleveland
Cavaliers
will get their point guard back.
The team announced Wednesday that standout rookie Kyrie Irving has been cleared to return to the court for Wednesday night's game against the Indiana
Pacers
.
Cavaliers guard Kyrie Irving has been cleared to resume game play by Cavaliers Team Physician Dr. AJ Cianflocco of the Cleveland Clinic. Irving suffered a concussion during the fourth quarter of the Cavaliers game at Miami on Feb. 7 and missed the past three games. He will be active for tonight's game against the Indiana Pacers at The Q at 7:30 p.m.
Irving missed three games after sustaining the head injury against the
Heat
last week, missing a Cavaliers win over the Los Angeles
Clippers
and losses to the Milwaukee
Bucks
and Philadelphia
76ers
.
A front-runner for Rookie of the Year, Irving is averaging 18.0 points, 5.1 assists, 3.5 rebounds and shooting 49.2 percent from the field in 29 minutes per game. Prior to the concussion, Irving had appeared in every game for the Cavaliers.
Last Wednesday, Irving was listed as
day-to-day
before Cavaliers coach Byron Scott
announced last Friday
that Irving would miss last weekend's games as he awaited medical clearance.
At the start of the 2011-2012 season, the NBA
implemented a new policy
for handling concussions and a player's return to the court.
In other Cavaliers injury news,
the team announced last weekend
that big man
Anderson Varejao
suffered a fractured wrist and is out indefinitely.