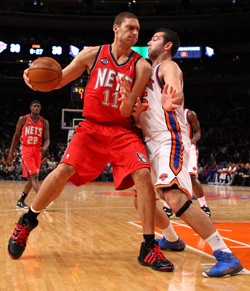 Lopez's return could be about more than just the Nets getting a player back.
(Getty Images)
Posted by Royce Young
Brook Lopez
's season almost ended before it got started. Right before the season began, Lopez broke his foot and hasn't played a game yet. But he could be returning soon,
according to ESPN New York
.
Lopez is out until at least Thursday, according to the team's official injury report, and coach Avery Johnson told reporters the team isn't ruling out a return before the Feb. 24-26 All-Star break.
The Nets' season is already over. The team isn't going anywhere, isn't going to make a playoff push. But Lopez's return is underscored by the fact he's the top trade chip the Nets have in trying to acquire
Dwight Howard
.
So him returning in late February could be a big deal. Why? Because it means the
Magic
would have two or three weeks to watch him play before the March 15 trade deadline. The Magic could watch him on his healed foot and just see if he's a good enough piece to acquire to part with their franchise guy.
Lopez isn't as attractive a piece as
Andrew Bynum
, but he's a seven-footer who can score. I'm not sure he's a franchise building block, but he's got the potential to be a top five center in the league. He's a bit soft and doesn't scrap for rebounds, but he's only 23 and has plenty of time to improve and grow as a player.
The Nets obviously don't want to rush him, but the sooner he comes back the better. Whether its before the All-Star break or after, getting a couple weeks of play out of him before the trade deadline could quietly big a really big thing.
Lopez averaged 20.4 points per game last season, which put him second in that stat among big men (behind Howard).