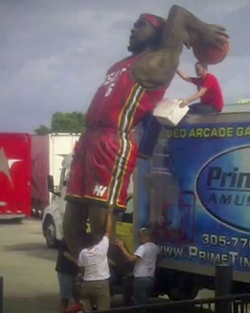 A South Florida company made this massive LeBron James statue.
(Getty Images)
Posted by
Ben Golliver
Back in line,
Jeremy Lin
. Giant foam statues are reserved for real superstars.
HotHotHoops.com unearthed the monstrosity
pictured to the right, an 18-foot tall statue of Miami
Heat
All-Star forward LeBron James.
The statue, made of foam and then hard-coated by South Florida company Primetime Amusements, features James cocking back to dunk the basketball with two hands, dressed in Miami's red uniforms and matching red sneakers. The statue includes every detail you could think of, including his tattoos, his beard, his headband and his receding hairline.
Primetime Amusements describes itself as "a global operator, seller and event renter of video arcade machines and simulators" in the following promotional video, which shows the statue's 4-step manufacturing process: drawing the figure, carving and sculpting the foam, hard-coating the foam with paint primer and then painting all the final details.
The company promises similar statues for Miami's two other All-Stars: guard
Dwyane Wade
and forward
Chris Bosh
. The company's president told HotHotHoops.com that plans are in the works to display the statue at All-Star Weekend in Orlando, which is now less than two weeks away.
More pictures of the statue
right here
.
Here's the 18-foot statue of LeBron James promotional video
via YouTube user PrimeTimeAmusements
.