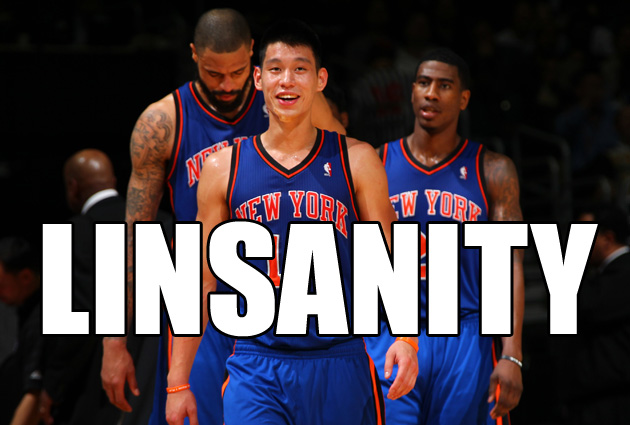 By Matt Moore
On February 3rd, 2012,
Knicks
point guard
Jeremy Lin
had 29,599 followers on social media service Twitter. One week later, he had 120,455. As of this writing on Tuesday, February 14th, just ten days before his breakthrough performance which began this Linsanity, he has 239,919.
Want to see what that looks like? Via
approved Twitter application TwitterCounter
: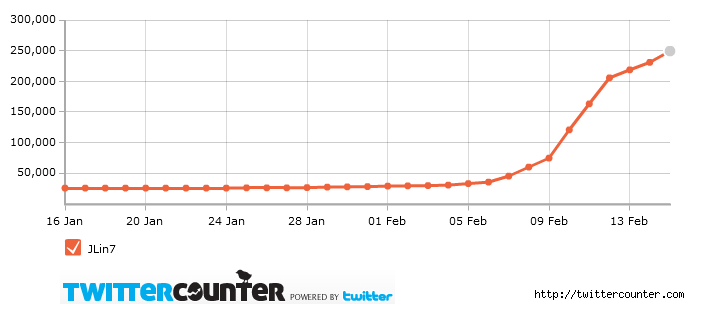 That's just tremendous growth for someone who was sleeping on
Landry Fields
' couch a week ago because he didn't know if he would be cut or not. Lin's growth has crossed boundaries, countries, cultures. The constant talk is trying to figure what it is about Lin that makes him such a phenomenon. Is it because he's Taiwanese-American?Is it because he plays for the Knicks? Is it becausehe went to Harvard? Is it because he's an underdog? The answer is all these things.
Take a look at Google searches for Lin in the past thirty days.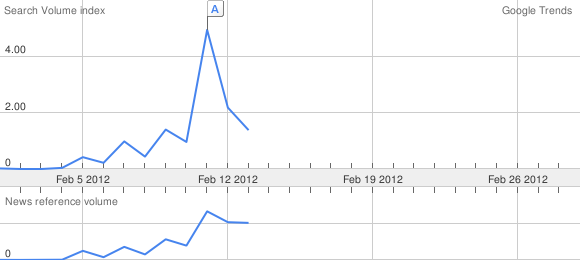 Just one of several videos
on Lin's 38-point performance against the
Lakers
on YouTube has over 248,000 views as of this post.
And if you were wondering if Asia was as fascinated by this story as we are, given that Lin wasn't born in Taiwan or mainland China, the results from where the searches are coming from lead you where you'd expect.
Regional interest via Google Insights
:
Hong Kong: 100
Taiwan: 86
Singapore: 79
Philippines: 67
United States: 62
So there is a component of Asian pride involved in the meteoric rise of Lin.
Danny Chau of Hardwood Paroxysm
did an excellent job of communicating the feeling of Asian Americans in regards to Lin and the phenomena he's become. (Note: I am the owner, author, and editor of Hardwood Paroxysm. This thing could have been written in Sharpie on a bathroom wall and I'd be uploading photos of it for you to read, it's so good.)
But Manny Pacquiao
, WBO Welterweight champion and member of the Filipino House of Representatives shared his support on Twitter, and the searches bear it out.
And it doesn't stop there. In an exhaustive profile of Lin's impact, Ken Berger of CBSSports.com lays out the real-world details:
Lin, the first Taiwanese-American and fourth American-born Asian to play in the NBA, has accounted for four of the top six videos on NBA.com in the past week, including the most viewed clip, according to the league office. He was the third-most searched term on Baidu.com, the leading search engine in China, and represented 12 percent of all customized products sold on NBAStore.com. He's had more Twitter mentions than LeBron James, and his followers on Sina the Chinese version of Twitter have grown from 190,000 on Feb. 2 to more than 916,000 as of Tuesday, according to David Shoemaker, the CEO of NBA China. A viewing party last Friday for the Lakers-Knicks game drew 1,200 fans in Taiwan.

"About 300 million Chinese people play basketball," Shoemaker said Tuesday on the phone from Beijing. "Theres a huge fan base and the NBA is without question the most popular professional sports league in China. I believe the seeds have been long planted before I even came to NBA China for this sort of phenomenon to take root. We're now somewhat the beneficiaries of it all."

CNBC sports business analyst Darren Rovell unleashed a torrent of tweets Monday that quantified Lins exploding popularity. Among them: web traffic to NYKnicks.com increased 550 percent last week, and video views rose 1,205 percent. When stock in publicly traded Madison Square Garden hit a 52-week high Monday and closed at $32.32, it marked an increase in the company's market capitalization of $228 million since Lins debut, Rovell wrote. With a lockout-adjusted second-year minimum salary of $613,474, all the Knicks had to pay Lin for his weeks work was approximately $25,000.
via
Lins meteoric rise, impossible to explain, a tale of perseverance - NBA - CBSSports.com News, Scores, Stats, Fantasy Advice
.
But there's so much more to Lin's story than the racial angle, despite what Floyd Mayweather believes. Let's take a look.
Lin came out of nowhere
, as Gregg Doyel of CBSSports.com notes in a baffled tone.
He's "
a lot like Tim Tebow
" but not as outwardly, aggressively preachy, which pretty much means there's no one that can be offended by him. (He's also not like Tebow because he can, what's the word? Oh, yes, pass.)
He is devoutly religious
, and leans on his faith constantly, especially with all this increased pressure. To be humble before whatever deity you subscribe to
and
not shove it down anyone's throat? CHA-CHING goes the hype machine. Although
GQ
does note that he has gotten drunk
according to a friend in the past, so he's also an everyman.
He's brought out the king of vitriol in Buzz Bissinger
to rain on the parade
.
As for the underdog aspect? Lin's own teammate,
Carmelo Anthony
, referred to Lin as "
our Rudy
." The underdog story certainly is part of it. The odds of Lin just making a roster two years ago were low, much less landing with the Knicks, getting playing time due to injuries and the tragic death of
Amar'e Stoudemire
's brother, and the struggles of
Toney Douglas
, as well as
Baron Davis
' continued issues with a bulging disc in his back. The comparison from Anthony was flawed, because Lin is not a feel-good story alone. He can ball, or at least he has over the past week. But it does show how he's making his teammates feel: inspired.
HoopsWorld reports
that Lin is having multiple discussions regarding a book deal.
There's a Fathead
.
There's a rap song
. Wait, no,
there are two rap songs
.
Stephen Colbert has a take
.
And
there's a pun generator
.
A former classmate is trying to sell
an autographed seventh grade yearbook
.
New York reporters
are being interviewed about interviewing Lin
.
And, oh yeah, there's this.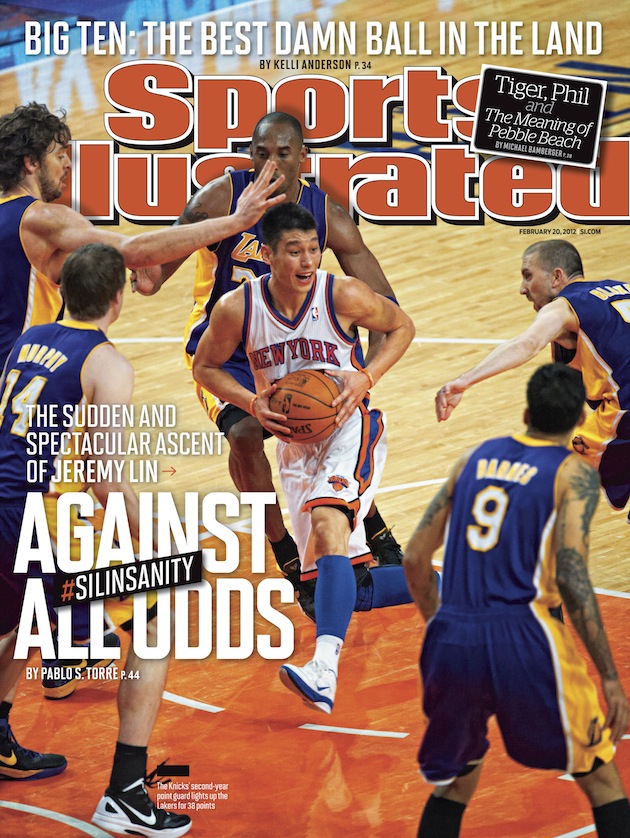 There's just no way to really capture how big this thing has gotten. And it's not over for Lin. With each game the pressure becomes greater. Should he struggle against the
Raptors
Tuesday night, the conversation will shift to whether the ride is over, immediately. If the Knicks lose when Anthony returns, there's whole other storm they'll have to deal with.
But looking back on the past ten days of Linsanity, it's impossible to say that we've ever seen anything like it in the NBA.