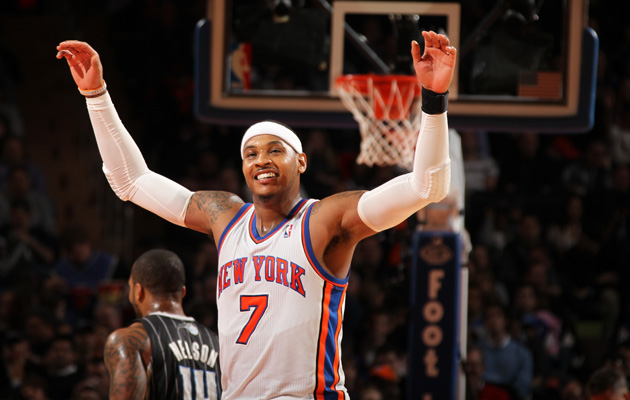 Carmelo Anthony and Jeremy Lin can flourish if they trust in how their coach has succeeded in the past.
(Getty Images)
By Matt Moore
When the
Knicks
take the floor in Toronto Tuesday night, there will be more media than Toronto will likely receive at any point this season. There will be multiple national writers in attendance, television crews, tabloid writers and bloggers flocking around a 23-year-old undrafted point guard out of Harvard named
Jeremy Lin
.
Perhaps you've heard of him.
Linsanity is still at its peak, where it will remain until Lin has a genuinely poor game and the Knicks lose. Both have to happen simultaneously. Lin's last performance against the
Timberwolves
was not great, but it was still productive if not efficient and more importantly the Knicks won. But whether it's tonight or later this week or later this month, eventually Lin will have a bad game and the Knicks will lose. The fever pitch will abate and the season will move on, as the media machine finds something else to freak out about.
But at that point, the Knicks will still have to try and make this thing work.
The biggest question on Tuesday night centers around not only will Lin keep up his phenomenal play, but will he be able to integrate
Amar'e Stoudemire
into the action. Stoudemire returns to the Knicks Tuesday for the first time since leaving last week following the death of his brother. Given Stoudemire's struggles not only from the floor this season, but in finding a role in the offense, there are high hopes (to put it mildly) that Lin's operation of the pick and roll will open up things for STAT.
And with good reason.
Lin's best work during this five-game winning streak that has seen his meteoric rise to instant stardom has been in the pick and roll, the area where Stoudemire does the most damage. Years of working with
Steve Nash
in Phoenix taught Amar'e the angle of attack on the roll and how to create space from the defender depending on his reaction to the screen. Stoudemire's not
Blake Griffin
, so don't expect Lob City, but Lin's ability to drop the bounce pass between defenders means Stoudemire should open up in the offense. For reference, Stoudemire in his last year in Phoenix had 17.7 percent of his touches in the pick and roll set. This year with the Knicks? Just 6.2 percent. Basically the Knicks have not put Stoudemire in one of his best offensive sets. That's largely because they have lacked a ball-handler to do so.
Toney Douglas
' decision making struggles in the open floor. He's more of an A-or-B binary option circuit. Pass standing or drive. Shoot or kick.
Lin, however, works much better in the pick and roll. His biggest strength is his patience and comfort off the screen, and his decision-making is key. He understand the timing of the set, or at least he has for the past five games. If the defense hedges on Lin and pulls back to defend the drive from Stoudemire, STAT can pick and pop, shred at the elbow unguarded. If this sounds familiar, that's because it is. This is the same dynamic that brought Stoudemire such success in Phoenix with Steve Nash. Jeremy Lin is not Steve Nash. But Mike D'Antoni is still Mike D'Antoni. And this can work.
So, what, then, of Melo? That's the million-dollar-question.
The debate rages about how to use Anthony effectively alongside Lin. Anthony, after-all, is a big fan of the Isolation set, the ball in his hands, able to navigate the floor and search out his own shot, at which he's an elite scorer. But that's not the most effective offense, as shown by the Knicks' early returns. Most of the talk from both pro and con sides have centered around vague generalities. "Melo will use Lin to create open shots" and "Melo can work on his own and with Lin."
Melo himself said Monday all the things you want to hear
as a Knicks fan, saying he would be giving Lin the ball and getting out of the way. But there's a specific role that D'Antoni's history leads us to with Melo. If Anthony wants to be the most successful he can be, he doesn't have to sacrifice shots or production. He just has to copy the Matrix.
In 2006-2007,
Shawn Marion
was playing alongside Amar'e Stoudemire in the final year of the team that came to be known as the Seven Seconds or Less
Suns
. The pace was what always brought up comments and the play of Steve Nash and Stoudemire brought the praise, but the real function behind the Suns was ball movement and careful shot selection. There's a reason Don Nelson's run-and-gun
Warriors
didn't touch the Suns' success, because the system relied upon deceptively quality shots. Marion was never really appreciated for his contribution alongside Nash and Stoudemire, and in fact needed years to shed a poor defensive reputation as a result of the system's reputation.
But Anthony is a much better offensive player and a much worse defensive player. So how does he fit?
In 2007, Marion took 13.4 shots per game. 27 percent of his possessions came from spot-up shots, according to Synergy Sports. 22 percent came in transition, and 17 percent came off the cut. In short, he filled in the gaps. Do you want Anthony, who spent 32 percent of his possessions in isolation plays before his injury, filling in the gaps? No, but the gap between Marion's 13.4 2007 field goal attempts and Marion's 18.8 2012 isn't huge. When Nash would split the defense and the third defender would rotate to challenge at the rim, there would be Marion, spot-up on the baseline or cutting to the rim.
Easy shots.
That baseline shot was particularly deadly, with Marion's quick flip release. He had his share of dunks off the attention drawn by the pick and roll as well. They weren't long, mid-range jumpers, they were replicable, makeable shots.
When you put an elite scorer in a position to make easy shots, your efficiency goes up, which forces the defense to adjust to that, which opens up things for Lin and Stoudemire, which forces the defense... you get the idea.
Anthony can still work in isolation. A drive and kick from Lin means that the second and third defenders Melo has been seeing will be occupied. And Anthony one-on-one in the flow of an offense, in rhythm is deadly, nearly as deadly as him uncovered. There's a way to make Anthony not just good at what he does, but better. To put him in a position to attack the glass. To take the most shots on the team and still not stop the ball. It's complicated. It's tenuous. It relies on Lin being as good if not better than he's been in the offense.
Mike D'Antoni's system has a lot of flaws, draws a lot of criticism, but one thing it can do is create efficient scoring with a talented point guard. He hasn't had that in New York. For the last five games, he's found that in Jeremy Lin. It's an opportunity for Lin, for Melo, for Stoudemire to live up to the potential the Knicks were supposed to have. It may be their last chance to live up to the hype.
Oh, and Anthony should take a look at Marion's defense, too.