Posted by
Royce Young
and
Ben Golliver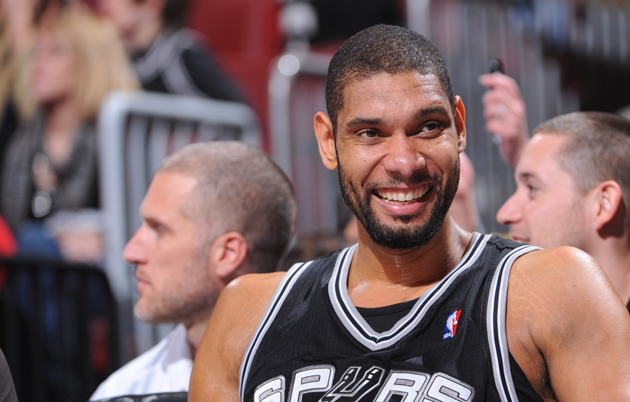 The Spurs have plenty to smile about as they ride a 7-game winning streak.
(Getty Images)
The 2011-2012 NBA season continues. Here's the ninth weekly installment of
CBSSports.com's NBA Power Rankings
by Eye On Basketball's Matt Moore.
What did he get right? What did he get wrong? We're here to break it down and take it down.
1. Too High: Los Angeles Clippers at No. 4.
You might be thinking, "Didn't I already read this before?" The Clippers
were too high last week and the Spurs too low
. And wouldn't you know it, they both moved up this week. The Clippers are a fine team in the West, but fourth best in the league? Even after losing
Chauncey Billups
for the year? I mean,
Kenyon Martin
was a nice pickup but not THAT nice. It just doesn't make sense to me to place the Clippers above the Spurs, or really even the
Mavericks
for that matter, especially after losing a top starter. -- RY
2. Too Low: San Antonio Spurs at No. 5.
The Spurs have won seven straight, risen to second in the West and are getting maybe their best player back. It's not that they're too low, it's that they should be in the conversation for the top three right now. Putting them at No. 5 is fine, I suppose, but having them behind the Clippers is criminal. I wouldn't even argue with you if you wanted to bump them ahead of Oklahoma City right now. -- RY
3. Most Overrated: Milwaukee Bucks at No. 19.
It's not easy to be considered overrated when you're ranked No. 19 out of 30 but that's the case when you're the ninth best team in an Eastern Conference which goes -- maybe -- five teams deep. The
Brandon Jennings
distraction, the
Stephen Jackson
distraction, the
Andrew Bogut
injury, it's all bad. The Bucks are just outside the playoff picture, but would be the third worst team in the Western Conference right now, better only than the New Orleans
Hornets
and Sacramento
Kings
. By season's end, the Kings would probably pass them. 2-5 for their last seven, Milwaukee's recent wins have come against the Toronto
Raptors
and Cleveland
Cavaliers
. The March schedule will kill this team. -- BG
4. Most Overlooked: Dallas Mavericks at No. 9.
A 4-game winning streak over Western Conference foes -- highlighted by a late
Dirk Nowitzki
winner against the Portland
Trail Blazers
in double overtime -- was all the reminder anyone needed that this team will be a major factor come playoff time. Expect them to keep getting overlooked. They might just have the toughest lead-up to the All-Star break of anyone in the league coming up -- with games against the
Nuggets
,
76ers
,
Knicks
,
Celtics
and
Lakers
over the next eight days -- so there's a good chance they don't separate from the West pack until March or April. Even if the breakout never comes, this will be a feared first round match-up and the early-season questions will be a thing of the distant past. -- BG
5. Sure Thing: Oklahoma City Thunder at No. 3.
How do you know that you're a really good team? You spend your week on a ridiculous road-trip that includes four games in five nights in some of the toughest buildings the NBA has to offer. You emerge 3-1 -- with wins over Portland, Golden State and Utah -- and yet all anyone wants to talk about is the loss, a close one to Sacramento on national television, with the fanbase fighting to keep its franchise in town. Watching those four Western Conference teams get up for the Thunder made it clear that OKC's reputation as the team to beat in the West is firmly established and agreed upon. Watching OKC match energy with energy on the road only underscored the point. -- BG
6. Wild Card: New York Knicks at No. 15.
So, about that whole Linsanity thing. The funny thing about it is, the Knicks have now won five straight and are back in the Eastern playoff picture. And that's with
Amar'e Stoudemire
and
Carmelo Anthony
returning. Which is what makes them so intriguing. Are they going to lose their mojo? Will Lin get marginalized? Or will it all be a perfect marriage? The Knicks could be rocketing up to the top 10, or the bottom could fall out any second. -- RY