By Matt Moore
A day after Manny Pacquiao's rival Floyd Mayweather tweeted that
Jeremy Lin
's
popularity and hype are solely products
of his Taiwanese-American heritage,
Pacquiao shared his own view
of the
Knicks
' point guard on Twitter.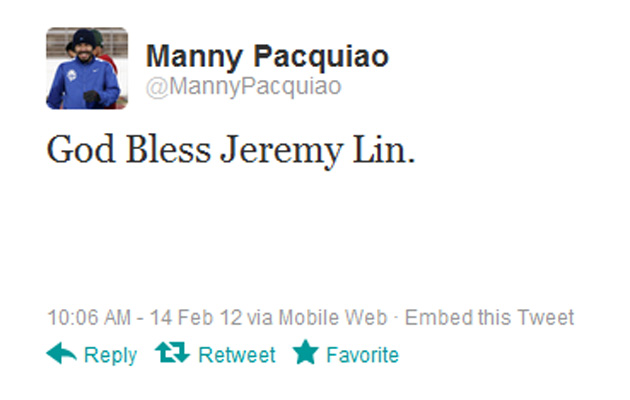 The WBO Welterweight Champion could be sharing his view based off his own Asian heritage (Pacquiao is Filipino, and in fact serves in the Phillippines' House of Representatives. He could also simply be firing back across the bow at Mayweather.
Or, maybe he's just a Knicks fan.
Lin continues to cross cultural boundaries beyond the NBA into mainstream culture, and the effect is staggering. More on Lin and the incredible story of how this has taken the world by storm Tuesday on CBSSports.com from Ken Berger. Be sure to check out
Gregg Doyel's column
wondering how in the name of everything Lin slipped through so many cracks.