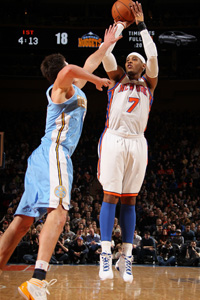 Carmelo Anthony says he'll fit in fine with Jeremy Lin.
(Getty Images)
By Matt Moore
While
Amar'e Stoudemire
returned to practice following the death of his brother and is expected to play Tuesday when Linsanity and the
Knicks
face the
Raptors
,
Carmelo Anthony
told reporters Monday that he thinks talk of how he will fit in with Jeremy Lin is "funny." As to who's going to be in charge when Melo retakes the floor following an injury absence, Anthony couldn't have been clearer. It's the Lin Show until further notice. From ESPN NY:
"When I'm reading the stuff, it's more funny than anything because at the end of the day I know what I bring to the game, I know what I bring to this team," Anthony said on Monday after missing practice due to a strained right groin. "My teammates know that. But to say, 'How can I fit in?' It's easy; give him the ball and space out. I get back to doing what I know how to do best. So we'll see."

Anthony said he is confident that he can fit in well with Lin, who missed practice on Monday for a standard recovery day and will play on Tuesday against the Toronto Raptors. Anthony has missed the Knicks' last three games after injuring his groin on Monday against Utah. He is happy that Lin has emerged to take some of the load off of his shoulders.

"I know there's questions about, 'Can I fit in?' and stuff like that, but this is like a dream come true to me," Anthony said. "It takes some pressure off of me. I don't have to play point guard. I don't have to try to get Amare 20 points, try to get this guy 20 points, me try to go out there and get 25-30 points a night, play defense, rebound do the whole thing."
via
New York Knicks' Carmelo Anthony could return this week, likes Jeremy Lin - ESPN New York
.
This is exactly what you want to hear from Anthony if you're a Knicks fan. There's no question Stoudemire can co-exist, even flourish with Lin doing what he's done in the superstar duo's absence. Stoudemire's best value comes from working out of the pick and roll, either exploding to the rim or catching and shooting in the space provided. Lin's work with
Tyson Chandler
and
Jared Jeffries
has demonstrated a command over the set and he should fit in perfectly fine with Stoudemire.
Anthony, who has primarily been an isolation scorer throughout his career and particulary in his firs year with the Knicks, is a bit trickier. But Anthony is certainly saying the right things about how to keep the critics at bay. He wants his own looks, to be sure, but he's also happy to have a guard to create. Anthony had been asked to essentially run point forward at the start of this season with
Toney Douglas
' struggles and
Iman Shumpert
's inexperience, and the results were not good. This is a tremendous opportunity for him to have shots created for him, to be allowed to work in space, and to have his incredible talent produce on easy looks versus exceptionally difficult ones.
The only question is if Anthony will be good to his word and take it.