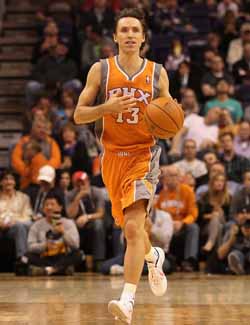 Nash hasn't and won't request a trade from the Suns.
(Getty Images)
Posted by Royce Young
Steve Nash
is 38 years old. He's on an expiring contract. And he's playing on a pretty average team.
Common sense might say that Nash would prefer to get out of Phoenix and head to a contender to play out his NBA twilight chasing a ring. Or that the Suns would like to move Nash for a couple of draft picks and young assets to start a rebuild. But so far, neither of those things have happened, nor does it sound like they will.
"I have no idea what the club will eventually do if a bunch of offers are thrown in their face,"
Nash told SI.com
, "but I feel like I'm not nervous about [the trade deadline] and I'm not thinking about -- what's the word? -- I'm not anticipating anything to happen. I feel like I made a commitment and I feel like I owe it to my teammates -- the city, the fans, the club -- to play it out and to play as hard as I can."
Nash has already said he wouldn't request a trade
from the Suns. He's loyal, he's committed and he wants to play somewhere he fits. That doesn't mean he might try and look elsewhere next season as a free agent.
But the thing with Nash is, despite being 38, he's having a ridiculous season. He's an All-Star, shooting 56.3 percent from the field and averaging 10.3 assists a game. He's defying age and reason by having maybe his most efficient season yet. And that's without
Amar'e Stoudemire
or other gifted offensive players. If there was any remaining debate about who made who better, Nash is the constant.
But would the Suns pull the trigger even if Nash is committed? Maybe. And they might actually be getting closer.
One executive whose team has had serious interest in Nash in the past told SI.com that the Suns are "as close as they've ever been" to realizing that they need to seriously consider pulling the trigger on a trade if a young star is offered in return. Still, it appears the greater likelihood is that he remains.

"Our position has been the same all along, which is I've told him that he has earned the right to stay with our franchise as long as he wants provided that he believes in what we're doing, and provided that he's all in and wants to do that," Babby told SI.com.
Nash said he wants to keep playing another couple of years and why wouldn't he? If he's this good at 38, think how good he'll be at 40. Nash is like fine wine -- just better the older it gets.