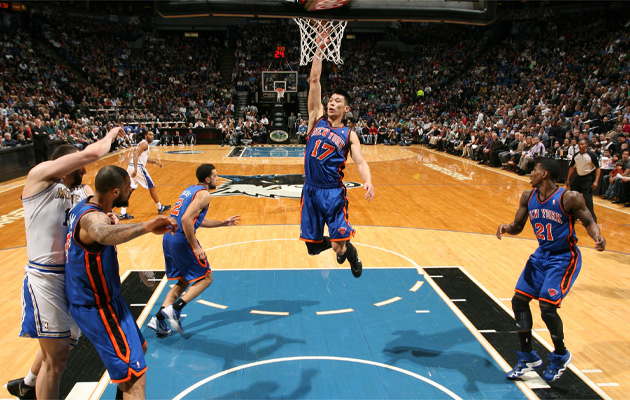 Jeremy Lin is going to be mentioned a lot in this post. I'm just warning you now.
(Getty Images)
By Matt Moore
Eastern Conference Player of the Week: Best Overall performance by Eastern PlayerJeremy Lin
Who were you expecting, Wilt Chamberlain? Lin set the world on fire this week, lighting up Twitter, Facebook, cable news, heck, I'm pretty sure there are telegrams being shared about him. Lin's points and assists totals over this ridiculous five-game stretch: 25-7, 28-8, 23-10, 38-7, 20-8. If Lin were to keep up this production for an entire season, he would finish in the top five in PER. He has invigorated the
Knicks
. He has excited a basketball nation. He has won, and he has captured the imagination of millions. The stats aren't bad, either.
So, yeah, pretty good week for Jeremy Lin. This may be his one and only appearance here, but it's definitely worth noting for posterity.
Western Conference Player of the Week: Best Overall performance by Western PlayerChris Paul
No
Chauncey Billups
, no problem. The
Clippers
go 3-1 this week behind Chris Paul averaging 22 points and 10 assists, shooting 48 percent from the field. He had just seven turnovers over that four-game stretch. When his team needed him to score, he scored. When they needed him to distribute, he set up teammates. Paul played at an MVP level this week, and the Clippers have climbed into the second spot in the West. The best pure point guard in the NBA continues to dominate, despite all the questions about the Clippers and without one of his main weapons in Billups.
The Jeremy Lin Award for Linning
Yup, more Lin. One thing that has gotten lost in all the Lin talk has been the intangible, non-narrative element in this whole thing. Outside of the feel-good story nature of Lin's emergence is how much fun you can tell the Knicks are having playing basketball. The hip-check celebrations are higher, the bench is louder,
Tyson Chandler
no longer looks like he could snap at any point. "Making your teammates better" is one of those phrases that gets used too much. Scoring a ton doesn't make your teammates better. And pure assists don't. But opening up the offense, distributing the ball, and running the offense at a high production level while making good basketball plays? That'll do it. Speaking of:
The Lin-near Advantage Award for Most Success Gained From Jeremy Lin's Emergence
Steve Novak
had hit 12 3's in 11 games prior to Jeremy Lin's emergence. He's hit 16 in the four games he's played since then. Is a lot of it on account of
Amar'e Stoudemire
and
Carmelo Anthony
's absences? Absolutely. But Novak has fit snugly into the corner shooter out of the pick and roll with Lin pulling defenders to the middle with his scoring and assisting off the screen. That corner three is deadly in Mike D'Antoni's system when used correctly. It's another piece that has fit well together with Lin, and it's good to see Novak's crack shooting being put to good use. Catch-and-shoot scorers for the win.
The Puzzling Enigma Award: Strangest week from player or teamNew York Knicks
Yes, it makes sense that a dynamic point guard would excel in Mike D'Antoni's system. But an undrafted point guard out of Harvard, cut twice in the past year who was sleeping on
Landry Fields
' couch because he didn't know if he would get to stay for the entire season, winning five in a row including one over
Kobe Bryant
and the
Lakers
? The world has turned and left me here. This isn't nonsense, it's linsense. Someone please explain how this happens.
The Horde Award: Team you should fearSan Antonio Spurs
Seven in a row and more importantly, they haven't allowed a defensive efficiency over 100 since their last loss to Dallas when a bench comeback failed in overtime.
Manu Ginobili
is back from injury,
Tony Parker
is playing at a ridiculous level for the first time in a half-decade and this is one of the deepest teams since the Spurs' last championship run. Get out of the Spurs' way as fast as possible, they're absolutely destroying people right now.
Cub Scout Troop Award: Team you should not fearCharlotte Bobcats
I hate the idea of contraction and even I'm begging the league to contract or at least relocate this team. It's not just the historic or recent failures, it's all of the above, combined with the fact that even if they do manage to get the top spot in the lottery, given their luck, there are pretty good odds they'll wind up landing third or fourth, end up taking a North Carolina shooter who lacks the ability to create his own shot and miss out on more franchise players. They're approaching a record-breaking losing streak and there's almost nothing to care about on the squad. You could trade the entire roster for Jeremy Lin right now and it wouldn't be a bad idea. And that says more about the Bobcats than Lin.
Searching For Bobby Fischer Award for Stratagem:
Keith Smart
Smart has managed to get
DeMarcus Cousins
motivated, the
Kings
cohesive, the defense at least noticeable, the offense incendiary for short bursts and life fun again to some degree in Sacramento. Reaching out to DeMarcus Cousins and making sure he feels connected to Smart after all the trouble between DMC And Westphal may rankle the disciplinarians among us, but it's working. A huge win over Oklahoma City on national television Thursday gives them a signature W on the season.
Awkward Water Cooler Conversation Award for Coaching Struggle: Dwane Casey
The questionable five-second call at the end of regulation Sunday was affirmed by the league, but it's up to
Rasual Butler
to make sure he doesn't flirt with a five-seconds call. However, with a chance to tie, the
Raptors
wound up with a step-back three from
DeMar DeRozan
who is not in a position to make that play yet. The play may have been designed for
Jose Calderon
before Kobe Bryant shut him down, but it doesn change that the Raptors were in that game and blew it. Bonus points of failure for failing to cover the rolling baseline play that Bryant has used so many times. Giving Bryant any look is dangerous, giving him the baseline pull-up is suicide.
Blog of the Week: TruthAboutIt.Net
The
Wizards
are a mess, but they're a fascinating mess. And TruthAboutIt.Net manages to walk an excellent line between analyzing and criticizing Washington's struggles and providing hilarious post-game video on a consistent basis. Their interviews with visiting players are always incredible, most notably when
Rajon Rondo
gave the single coldest answer in the history of professional athlete relations in regards to a question about
John Wall
. An interesting visual approach completes the effort.
MVP Rankings:
1. LeBron James:
Doesn't have it locked up, but the odds-on favorite at this point and it's not really close.
2. Kevin Durant:
The fact that elite defenders are still unable to do much against Durant speaks to how he's developed. He's a force of nature at this point.
3. Derrick Rose:
The
Bulls
are great without Rose, nearly knocking off the
Celtics
at home. With Rose they are the East's best team at the moment.
4. Chris Paul:
Try and stop him.
5. Kobe Bryant:
Kobe's getting his numbers, but the wins aren't coming because of the lack of efficiency. This has a very 2006 feel for the Lakers.
6. Dwyane Wade:
The fact that LeBron is producing at the level he is and there are still legitimate arguments (beyond "OMG LeChoke is a choker!") about who the best player on the
Heat
is says a lot.
7. Dwight Howard:
He complained after a win about his touches. Yup, that's the spirit, Dwight.
8. Tony Parker:
Sacre bleu! (That's all I got. He's good.)
9: Kevin Love:
Ricky Rubio
may be why everyone's all excited, but Kevin Love is why the Wolves are such a difficult team to beat.
10. Jeremy Lin:
Just kidding!
ROY Rankings:1. Kyrie Irving:
A concussion isn't enough to take him out of the top spot, but it'll be interesting to see how he recovers.
2. Ricky Rubio:
Two crucial turnovers late against the Knicks cost the Wolves a win, but his defense of Lin is what put them in the driver's seat to begin with.
3. MarShon Brooks:
Brooks is just back from injury. How he plays in the next week will determine whether he stays.
4. Kawhi Leonard:
So. Many. Big. Plays. Guarded Kevin Durant admirably this week as he continues to impress with his savvy.
5. Ivan Johnson:
You could call him the Jeremy Lin of mean-as-hell big men.
6MOY Rankings:
1. James Harden:
You can start engraving his name on the award now.
2. Louis Williams:
The best bench scorer on the best bench.
3. Jason Terry:
Same ol' JET.
4. Jordan Farmar:
With
Deron Williams
and
Anthony Morrow
playing as well as they are and Farmar still filling up the scoreboard, you have to wonder how they are this awful.
5. Al Harrington:
Regression on both sides of the ball has Harrington teetering towards the cliff.