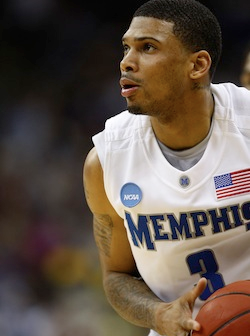 Roburt Sallie was cut from his team for a... different reason.
(Getty Images)
Posted by Royce Young


Some stories are more delicate than others. Especially ones involving private parts.
Roburt Sallie, a former Memphis Tiger who once
scored 35 points in 36 minutes during the NCAA tournament by going 10-15 from 3
, has been playing in Spain chasing his NBA dream. But he had a setback this week as he was cut from his team.
That's not news. Because you probably have no idea who Roburt Sallie is. It's the
reason
Sallie was cut.
According to Spanish basketball news site tubasket.com, with the help of Google Translate
:
Yes, you heard. The truth is stranger than fiction. Roburt Sallie, escort 25 and 1.95 m.'s Basketball 20117 Tarragona (Adecco Gold), was cut early in the month of December, officially, for disciplinary reasons. Now, with the Catalan newspaper 'The 9 Esportiu', we learn the real reason for his dismissal.

On 18 November, his team won the ENIAC Knet & Rioja, 83-75, with his 5 points in 20 minutes. After the party he had to pass the drug test and then was caught. When asked if he was taking any medications, acknowledged that yes, some pills named 'Extends' to lengthen the penis.

Nothing bad if not for the 'little' detail that can make for testosterone doping, and worse, because nobody in the club knew, with consequent damage to the Tarragona in case of receiving a sanction.

It was then understood why the player, formed at the University of Memphis and graduated a year before finishing his basketball career in the NCAA, his poor relationship with peers, and almost never take a shower in the locker room, or after the matches or training, not to see him naked peers.
Um...
Not exactly the ideal way for your time to end with a team. Getting busted on doping is one thing, but for using "Extends?" I guess PEDs in sports really are out of control.