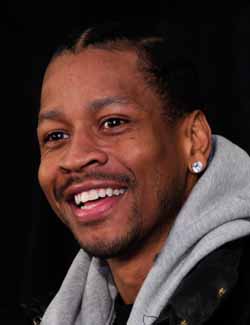 Iverson and Kobe? Together? What?
(Getty Images)
Posted by Royce Young
The
Lakers
are clearly in a desperate position at point guard. Gilbert Arenas is
reportedly under consideration
.
Steve Blake
has been injured. And
Derek Fisher
isn't the answer.
So, they might be looking at The Answer.
Via ESPN Los Angeles
:
Allen Iverson, who sources indicated the Lakers had some interest in as long as he was willing to go to the NBA Developmental League for a few weeks first, is not the answer. He's simply not a point guard. The Lakers are also said to be interested in former Toronto Raptors point guard Rafer Alston, who helped the Orlando Magic reach the NBA Finals in 2009. But who knows if that will materialize into anything?
OK, so it's way unlikely Iverson actually ends up with the Lakers. Or for that matter, anywhere. He reportedly recently had some interest in
playing professionaly in Puerto Rico
as the beginning of an NBA comeback, but that's a believe-it-when-I-see-it thing.
Iverson playing for the Lakers really doesn't solve anything. I mean really, what's the point? Yeah, Iverson wants to play again and he's probably still got something left, but the Lakers need someone to run an offense, not someone that has a point to prove. Unless Iverson is planning to completely reinvent himself at age 36 as a pass first point guard that penetrates and creates, then this isn't a good fit.
Unlike the Arenas interest that could potentially be a low risk, high reward move, the Iverson one smells like failure all over. I realize the two players aren't that different, but the chances Arenas can still play a little are higher than the ones of Iverson having something left. Picturing Arenas fitting in alongside Kobe is much easier than picturing Iverson doing that.
The interest level probably isn't much higher than "He's a living breathing point guard that isn't signed by someone, so I guess we'll listen" type of thing, so that's important to keep in mind. Just because the Lakers might have interest doesn't mean it's a lot of interest. Also, notice it's past tense. Sounds to me like the Lakers were mildly intrigued and now aren't.
The Lakers do need help and are looking to improve their roster. But Allen Iverson? Not the answer.