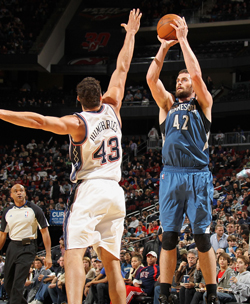 Kevin Love says he will compete in the 3-point shootout.
(Getty Images)
Posted by
Ben Golliver
Minnesota
Timberwolves
forward Kevin Love was
named to his second All-Star Game
on Thursday. But, wait, there's more.
The Star-Tribune reports
that Love said on Thursday that he will compete in the NBA's annual Three-Point Contest as well. The shooting contest is an annual staple of the league's All-Star Saturday festivities.
"I think I got a good shot at anything I do," Love said,
according to the paper
. "I'm a pretty competitive guy."
Miami
Heat
forward
James Jones
won the 2011 Three-Point Contest in Los Angeles, defeating Boston
Celtics
forward
Paul Pierce
, Celtics guard
Ray Allen
, Golden State
Warriors
forward
Dorell Wright
, Cleveland
Cavaliers
guard
Daniel Gibson
and Oklahoma City
Thunder
forward
Kevin Durant
.
Love, 23, is averaging 25.0 points, 13.6 rebounds and 1.7 assists in 39.4 minutes per game this season.
He's shooting 37.8 percent from deep, while launching a career-high 4.6 threes per game.
Full rosters for the Three-Point Contest, Slam Dunk Contest and other All-Star Saturday events have not yet been announced.