Posted by Royce Young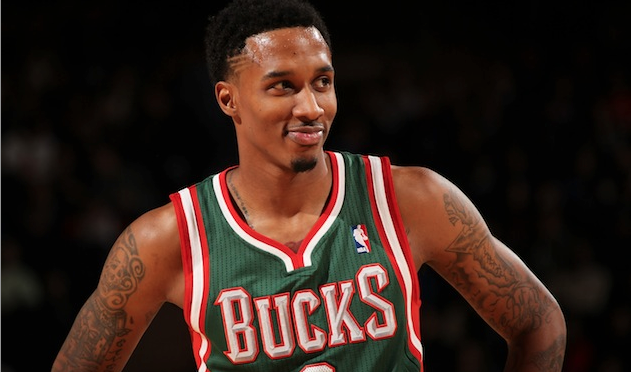 Jennings tweeted after the announcement, "Just gotta work even harder now." (Getty Images)
The 2012 All-Star teams have been filled out and as always, there are some serious snubs. It's a select group that makes the All-Star Game as just seven spots in each conference are open for reserves. It's not easy to make it which means guys that have a great case to be there always get left out. You can't take everyone and there have to be cuts. So here the top five guys that have a reason to be disappointed. Feel free to create your own "snubbed from the snubs" list too.
Brandon Jennings
The
Bucks
aren't having a great season at 11-14, but it would be
really
bad without Jennings. He's averaging 18.9 points, 5.3 assists and 3.3 rebounds per game. He's third among Eastern point guards in scoring and has been terrific in a number of big Milwaukee wins, including both over the
Heat
. Again, what hurts him is that his team is 11-14, but that didn't seem to affect
Deron Williams
' candidacy much. Jennings has a legitimate gripe to be left out.
James Harden
You're saying, "James Harden? There are way bigger snubs than that. But there should be something to be said for a guy that's second at his position. It just makes
sense
for Harden to have been included. He's second in PER (21.94) in the West for shooting guard, only behind Kobe. He's 22nd overall in PER in the league. He's fourth in scoring among 2-guards. He's the third best player on the team with the best record in basketball. And his beard has the power to heal blindness. Those five things should add up to enough to trump
Dirk Nowitzki
, who even said himself he shouldn't be there.
Paul Millsap
The
Jazz
have basically come out of nowhere to contend for a playoff spot. People are saying things like, "Whoa, where did the Jazz come from?" and "Hey, what are the Jazz doing in the top eight?" You know why? Because of Paul Millsap. He's averaging 16.5 points and 9.7 rebounds which aren't as gaudy as his power forward counterparts in the West, but definitely better than Dirk who has missed a good number of games and isn't playing close to his level.
Kyrie Irving
He's a rookie. He's playing for a not great team. But as
Blake Griffin
proved last season if your play is outstanding, those things aren't supposed to matter. Look at Irving's 21.66 PER. That's top 25 in the entire league. And he's exploded over the last month too. He's really blossoming into one of the East's very best point guard and with the reserves just having two point guards, Irving has a good case to be a third.
Kyle Lowry
The top snub in my mind. Lowry isn't just having an All-Star caliber season. He's having potentially an MVP caliber season. His numbers don't pop -- 14.7 ppg, 7.9 apg and 5.8 rpg -- but considering his importance to the now 15-11 Houston
Rockets
, he has to be considered one of the elite players in the West. It's tough because the Western team is already guard heavy and it would be tough to say Lowry should go ahead of
Tony Parker
or
Steve Nash
, but this shouldn't be about name recognition. It should be about this season and Lowry is having as good a year for a point guard as anyone in the conference not named
Chris Paul
or
Russell Westbrook
.