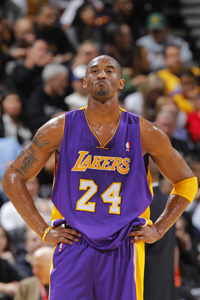 Kobe Bryant says the Lakers will make a trade before the deadline.
(Getty Images)
By Matt Moore
In high school, a girlfriend bought me a a button that says "conscientous agitator." My wife constantly refers to my combative tone as "poking large bears in the bum with pointy sticks." So I'm pretty familiar with how to say things that aren't technically saying things while actually saying exactly what the thing is not supposed to say... you might say. And I'm saying that
Kobe Bryant
is trying to say something in his recent comments this month. Let's take a dip in the oily pool, shall we?
From the Los Angeles Times on February 1st:
"Because of the changes in the players and so forth, you just can't come out of the gates and fight for a 1 seed or a 2 seed," he said. "That's just not realistic, but we want to build and get better and go into the playoffs with momentum."
via
Lakers FYI: Kobe Bryant says other teams are still worried about the Lakers - Los Angeles Times
.
In that same article he warns that the Lakers could be dangerous when the playoffs start. But this is Kobe Bryant, obsessed with winning, talking about how his team can't reasonably expect to be the first or second best team in the West, and that his team might be dangerous. That was eight days ago. Thursday on ESPN radio, via ESPN LA Bryant said he was sure the team
would make a trade as we discussed here
. Here are more comments from Bryant:
" They obviously tried to pull the trigger on a trade that they thought was going to improve our team with CP and it just didn't happen. But, that shows me that they're thinking in the right direction in terms of doing things to improve our ballclub. So that's why I'm not really tripping on it. We have to be patient and we have to make the right moves and I'm sure we will."

"The motivation is for us to build a contender," Bryant said. "It's not to just kind of sit around and see what falls in our lap. That's not the impression that I get from management at all, so I think that allows me to be patient. You can't just rush into things and then you make bad decisions, you make bad choices, you're locked into bad contracts. So, it's important to be patient, make right choices and we'll be fine."
via
Driven Kobe Bryant thinks Los Angeles Lakers will 'tweak' team - ESPN Los Angeles
.
The standard duck-and-cover answer for whether you think an organization will make a trade is "I don't know. I don't worry about those things. That's something (the team's GM) worries about." It's simple. It's easy. It's effective, it closes off all doors.
What Bryant did is the opposite of that.
He's essentially pushed the organization to make a move. That's the star, the face of the franchise, the second-best-to-best player in the history of the most successful team in the NBA publicly stating that he expects his team will make a move. The hidden implication there is that he expects that because to do otherwise would be a mistake. He's not calling out teammates, he's not speaking directly about
Dwight Howard
or
Deron Williams
, though he said he'd like to play with "both of them." But he's putting it out there that going into the playoffs with Bryant chasing his sixth ring with this configuration is not acceptable.
There's no "We've got Andrew and Pau and Metta" or "I believe our coaches can win with this roster." Just "We could be dangerous when the playoffs come around. Bryant in the interview actually specifically discusses why this situation is different from the beginning of the 07-08 season when he was demanding a trade. Which means he considers things to be bad enough to compare the two situations. Again, not trying to connect phantom trains here, but with Bryant there's always the implication of what he doesn't say when he says something. It's easy to provide a transluscent answer that gives a reporter or interviewer nothing. Instead Bryant openly said "expect change" which isn't far from "we'd better trade someone so I don't feel like I have to score 40 (on 30 shots, he'll conveniently omit) every game."
Meanwhile indications from multiple outlets suggest Dwight Howard has soured on the Lakers, which would mean that Deron Williams if off the table as the
Nets
would be firmly in the top spot for Howard. With
Chris Paul
playing the other nights at Staples, the Lakers are running out of All-Stars to go get Bryant.
Maybe Bryant is as patient as his quotes claim he is. But there's a pattern forming, and it suggest a Black Mamba unhappy with how tight his cage is.