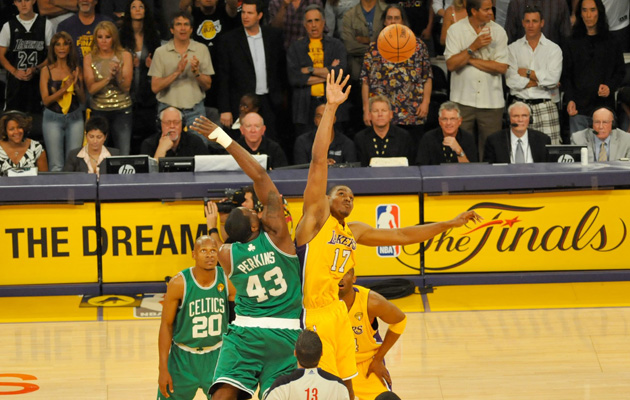 The Lakers and Celtics don't seem like contenders this year, but has their window really closed?
(Getty Images)


By Matt Moore
Lakers vs. Celtics just doesn't have the same umph to it it usually does, does it?
I mean, it's not like we're talking about lottery squads. The Lakers are 14-11, the Celtics 14-10. Neither team is below .500 even if neither team is remarkably above.
Kobe Bryant
? Still walking into the Garden Thursday night. Same for
Pau Gasol
,
Andrew Bynum
,
Ray Allen
,
Paul Pierce
,
Kevin Garnett
, and
Rajon Rondo
. The only real players missing from their titanic clashes over the past four years are
Kendrick Perkins
, feuding with LeBron over someone else's dunk on him, and
Lamar Odom
, struggling to be the Lamar Odom he was with the Lakers without the Lakers, (or Phil Jackson). The cast of characters is essentially still in place.
But this feels more like a sideshow game, a "don't call it an old timer's game" than a showdown between contenders. Suddenly it's the Lakers and Celtics trying to prove that they can still do it, can still facedown the younger, hungrier teams and make a run at the title.
The Lakers are lethargic. Everything on offense seems so difficult. Kobe Bryant's brilliant scoring numbers are lauded by scribes who aren't bothering to check how many shots he's putting up. We've gotten to the point where Lakers fans are more consciously aware of where Bryant is at in his career than the scribes who are paid to watch on a nightly basis. Because "Kobe Bryant, once and always scoring king" is a better story. Let's not get this confused. Bryant's not
Joe Johnson
here. He's got a 23.4 PER. He's shooting 44 percent from the field. But the reality is that Bryant's forcing this, as much as he's ever forced it. Maybe he has to because of he offense, which seems to meander between helpless and workman-like. The Lakers are winning more games than they're losing. But they're also losing so many games they once dispatched with ease.
The Celtics are just sloppy. They're on a tear, a five-game winning streak, and have been pounding teams back into the dirt. But there are still long stretches where you can tell the Celtics just struggle with what to do. Paul Pierce has picked up his play, Ray Allen is still knocking down shots, and Kevin Garnett is still doing Kevin Garnett things. But there's a general lack of cohesion, a lack of precision, a failure to execute cleanly that we've seen in the past. This is still a very good team. But it doesn't feel like the Celtics of old.
So is Thursday night's game meaningless? Is the window closed?
Absolutely not. Bryant, in the
L.A. Times
:
Though they may falter on the road and remain in the middle of the playoff pack, Bryant didnt seem overly concerned looking ahead to May.

"I don't know too many people that are comfortable playing us, know what I mean?" he said, smiling.

He hoped the Lakers could snare some momentum over the next couple of months, gradually improving as the regular season winds down."If you figure things out going into the postseason and you get a good rhythm, that's what you want, especially in a short season," he said.
via
Lakers FYI: Kobe Bryant says other teams are still worried about the Lakers - Los Angeles Times
.
Bryant's on target here. Because the same thing that ensures neither team will be able to acquire a top-three seed in all likelihood is the very thing that ensures that trying to dig them out of the playoffs will be like getting shrapnel out of wood with a spoon.
Experience.
There's a not-so-secret adage that says that young teams don't win titles. Experienced teams do. The
Spurs
, the Celtics, the Lakers, the
Mavericks
. The Mavericks spoke very strongly last spring of the benefits of having players who knew how to respond, to keep their cool, to execute consistently. The Celtics and Lakers have precisely those teams.
This season is about survival, it's about simply managing to get through this brutal, compact season, avoid long-term injuries and make it into the dance, so to speak. Once that happens, the game changes. The pace slows down, where the Celtics are more comfortable. The Lakers' length and size become dramatically different in terms of impact. Kobe Bryant's efficiency becomes less important because all efficiency is impacted by the style of play. Pau Gasol's versatility becomes an asset. The Celtics' savvy in drawing and avoiding fouls frustrates teams. Does that mean that either will be representing their conference in the Finals? Not necessarily. But it does mean that dealing with them will not be easy. The
Heat
may have dismissed the Celtics last season, but there's no reason to think the Celtics can't turn a few more opportunities into wins. The Lakers were trounced by a Mavs team that no longer exists. In fact, the Lakers could very well be a different team in a matter of weeks.
The Boston-L.A. rivalry resumes Thursday night, and it doesn't feel the same as it once did.
But maybe it will provide both with a reminder of how good they can be, and how very much they would like to see the other again sometime in June.