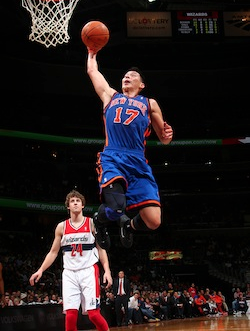 Jeremy Lin is kind of sort of the NBA's version of Tim Tebow.
(Getty Images)
Posted by Royce Young
Linsanty, meet Tebow Mania.
Jeremy Lin's explosion onto the NBA scene isn't quite to the 24/7 talk that followed around Tim Tebow, but in terms of NBA storylines, it's about as close as we're going to get. The only thing that might be able to match it is if
Jimmer Fredette
started scoring 25 points a game in the fourth quarter while leading the
Kings
to a 10-game win streak.
For now, it's Linsanity. This is a guy that was cut from two NBA teams (the
Warriors
and
Rockets
,
with GM Daryl Morey admitting today on Twitter
he messed up on Lin), is sleeping on a teammate's couch and wasn't entirely sure he wasn't going to get cut by the
Knicks
yesterday.
Lin joined 95.7 The Game in San Francisco
to talk about his rise to fame, including a person he draws some inspiration from -- one Timothy Tebow:
"Actually a lot of inspiration just because [Tebow's] such a polarizing figure but I think the things he says in interviews, his approach to the game is just unbelievable and I respect him so much. I want to be able to do some of the things that he does in terms of the amount of charity work and the non-profit work, and the way he impacts people off the field. I think that is what is most inspiring to me about him."
Getting to know Jeremy Lin
Like Tebow, Lin wears his faith on his sleeve a bit. He mentioned God quite a bit during the interview and his Twitter bio says, "to know Him is to want to know Him more," with his profile picture being Jesus talking to a man on a bench. Lin hasn't spawned the jokes or putdowns that came with Tebow, but he definitely relates.
Lin, a Harvard grad that didn't get a single scholarship offer out of high school and went undrafted, isn't afraid to say he's surprised by his success.
"Yeah definitely true. I can't sit here and say I knew this would happen or something like that. I think it's something that I've been working towards to try to kind of establish myself in the rotation but to have this happen so fast has been miraculous and I'm just so thankful to God, my teammates, and this organization for giving me this opportunity. It's been an unbelievable week."
He's getting his shot now and he's taking advantage of it. In his three games playing prominant minutes with the Knicks, he's averaging 25.3 points and 8.3 assists. The Knicks have won three straight games, two coming without
Amar'e Stoudemire
or
Carmelo Anthony
. It's still early on in Linsanity and things could chill at any moment.
But for now, Lin's living the dream. And sleeping on a teammate's couch.
Via Sports Radio Interviews