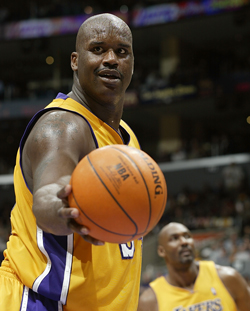 Shaquille O'Neal's jersey is reportedly headed for the Staples Center rafters.
(Getty Images)
Posted by
Ben Golliver
The plan is finally starting to come together.
In the immediate aftermath of Shaquille O'Neal's retirement
back in June 2011
, the Los Angeles
Lakers
announced that the franchise would retire his No. 34 jersey.
At the time, a team spokesperson said there was no timetable for when the ceremony would take place.
NBA.com reports on Thursday
that the Lakers are expected to retire O'Neal's jersey during the 2012-2013 season, citing the rushed lockout schedule as the reason why the ceremony didn't take place this year.
O'Neal paired with Lakers guard Kobe Bryant to win three titles for the franchise. His time with the Lakers is generally regarded as the high point of his career, making the jersey retirement decision a no-brainer.
Lakers owner Jerry Buss issued a statement of appreciation for O'Neal last summer.
"Shaq had a long and amazing career," Buss' statement read. "A huge impact both on and off the court. His contributions were significant to the entire NBA, but we specifically appreciate what he did with and what he meant to the Lakers during his eight years with us. We have three championships that we wouldn't have won without him, and we will forever be grateful for his significant contributions to those teams."
Earlier this week, Bryant passed O'Neal to move into fifth place on the NBA's all-time scoring list. O'Neal
graciously congratulated Bryant
on the achievement, calling him, "the greatest Laker ever."
O'Neal is currently serving as an NBA commentator for TNT.
The Lakers have
only retired the jerseys of seven players to date
. All seven are members of the Naismith Basketball Hall of Fame.
The full list:
Kareem Abdul-Jabbar -- No. 33
Elgin Baylor -- No. 22
Wilt Chamberlain -- No. 13
Gail Goodrich -- No. 25
Magic Johnson -- No. 32
Jerry West -- No. 44
James Worthy -- No. 42