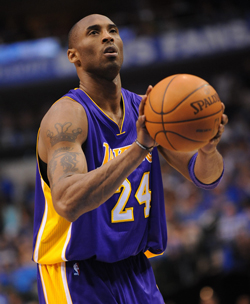 Kobe says his wrist is officially healed.
(Getty Images)
Posted by Royce Young
There are people that play through injuries, and then there's
Kobe Bryant
. Some just try and get by while something heals, but not Kobe. Despite having a torn up wrist, he didn't just get by, he averaged 29.3 points a game, tops in the NBA, shooting the ball all over and putting together a couple 40-point nights.
But that's in the past now, Kobe says.
Via the O.C. Register
:
Kobe Bryant told me after Lakers practice on Wednesday the torn ligament in his right wrist is completely behind him.

"I got through it," Bryant said.

When I asked him if he would use the term "healed," Bryant said: "Yes."

Bryant said he stopped using the pregame injection that would numb the wrist to pain two games ago.
A lot of people wondered if Kobe should just shut things down to let it heal, but it looks like he knew what he was doing. That's assuming it's actually healed and Kobe's not just saying that so everyone will quit asking about it.
Kobe had been taping his wrist, but even has ditched that too.
"I experimented with no injection in Utah, and the next game felt completely fine," Bryant said. "So, no tape, no injection. I'm good."
Kobe injured the wrist in the Lakers' first preseason game against the
Clippers
, when he fell hard landing on it. He didn't miss a game but instead just taped it up and played through it. He said he had to deal with constant pain, but obviously it was worth it to him to be on the floor for a Laker team that clearly needed him.
The wrist didn't stop Kobe from recently passing Shaquille O'Neal on the all-time scoring list either, as No. 24 moved to No. 4 on the NBA's top scorers list.