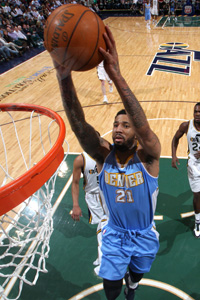 Wilson Chandler's agent says he wants to re-sign with Denver when he returns from China.
(Getty Images)
By Matt Moore
Wilson Chandler has been in China, after choosing to bail during the lockout assuming the season would wind up more protracted than it is. As a result of a Chinese Basketball Association rule enacted this summer, he is unable to get out of his deal until his team's season is over. Which will be shortly. Chandler is a restricted free agent for the
Nuggets
, and there was talk Denver might not re-sign him or that he would prefer a return to New York. But Yahoo Sports reports that Chandler's preference is to re-join the Nuggets for their playoff push:
Chandler is drawing "significant interest" from other NBA teams, Chandler's agent, Chris Luchey said, but he wants to re-sign with the Nuggets for either the rest or the season or a longer-term deal.

Nuggets general manager Masai Ujiri acknowledged the team's interest in re-signing Chandler. The Nuggets have the right to match any offer Chandler receives from another NBA team.

"Wilson likes their direction and the stabilization of their roster in Denver with the young talent," Luchey said in a phone interview from China. "He wants to see how they develop as a team. It's a unique situation. The ball is in their court. If Wilson is comfortable, he will be a part of their core group."
via
Wilson Chandler intends to sign with Nuggets - NBA - Yahoo! Sports
.
Chandler joining the Nuggets would just be adding more depth to arguably the deepest team in the league, when healthy. He's a versatile scorer that would join a 2-3 rotation of
Arron Afflalo
,
Danilo Gallinari
,
Rudy Fernandez
, and
Corey Brewer
, providing a five-man rotation entirely made of athletic wings that can get out in transition and hit from the perimeter. Chandler has the ability to fill up the scoreboard in any game, and is an underrated defender.
It'll be key to see what kind of condition Chandler has been playing in in China (his numbers suggest pretty great), and if there's a struggle to adapt to NBA speed. But as the Nuggets gear up for a late-season playoff run, getting Chandler will only make a good depth situation better for Denver.
With all their injuries, they just have to survive until then.