Posted by Royce Young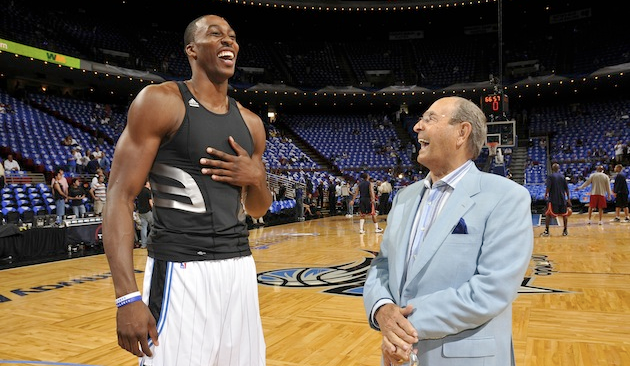 The Magic's owner said Wednesday that he doesn't want to trade Dwight Howard.
(Getty Images)
For whatever reason, before the Magic's game Wednesday against the
Heat
, owner Rich DeVos made a surprise visit to Orlando's locker room to speak with the media.
And put it simply to the reporters there
:
"I don't want to trade him," DeVos said of Dwight Howard who could become an unrestricted free agent this summer.
That's not exactly "I won't trade him" but it signals what some are beginning to suspect. The Magic aren't in a hurry to trade Howard and aren't going to just give him away.
According to reports
, DeVos was greeted by players like
Jason Richardson
and
Daniel Orton
but did not get anything from Howard, who dressed only a couple feet away. Tension? Yeah, probably. Howard has made it pretty clear he'd like to be traded as well as making it painfully clear he doesn't want to remain with the Magic. But Devos still holds on to some optimism.
"We like to think we're making headway," DeVos said of negotiations. "But I don't know. He probably won't know until the end and I won't either."
DeVos wouldn't put a percentage chance on Howard staying.
"I don't gamble on that, I just plan on him staying," he said.
"You never give up," DeVos said. "We've got a great talent, a great young man. He's got to look at his options (and) what's best for him and I have to tell him what I think is best for him. I'm selfish."
DeVos, who is 85 and in a wheelchair, obviously isn't keen on the idea of starting a major rebuild with the team. If his hand is forced, he would prefer to keep his team competitive for as long as possible. DeVos told reporters he wants to keep the teams in the hands of his family for "forever," and certainly doesn't want to pass on a deterioating product.
It sounds like he's not glass-half-full in these Howard talks, but glass-half-full-of-whiskey. He's probably being unreasonable and far too optimistic that Howard stays, but I understand his position. Why give Howard away and not get anything near comparable in return? DeVos is looking at a chance to win now and wants to hang on to that for as long as possible.
DeVos told reporters that if he leaves Orlando for a new city, he might not ever equal that connection he has with the team that drafted him and the fans that watched him grow.
"Listen to the fans tonight, cheering," DeVos said. "He's respected. You have to move in life, but the loyalty you develop in a community is always remembered. But if you leave, you don't pick it up in the next town. It's not an add-on, you know, because you lose what you had. Maybe you gain some new [loyalty], but maybe you don't. Maybe the net gain isn't as good you think. We just talk about stuff."
A quality pitch, but it's probably not enough to sway Howard into staying. Not going to stop DeVos from trying though. Maybe well past the March 15 trade deadline.