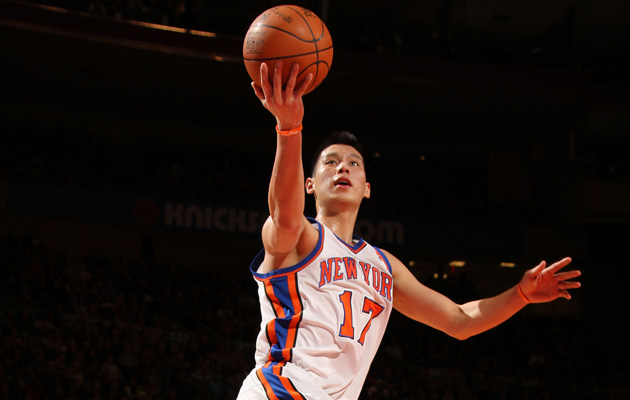 Is Jeremy Lin for real? Well, yes and no. (Getty Images)

By Matt Moore
Linsanity is indeed in full effect.
Jeremy Lin
came off the bench for the
Knicks
four days ago against the
Nets
and scored 25 points, with 5 rebounds, 7 assists, and 2 steals in a comeback win over the Nets. More than that, though, there were signs of something Knicks fans haven't seen all year: a fully functioning offense. Lin showed an almost instinctive understanding of the pick and roll, a primary staple of most NBA offense but particularly Mike D'Antoni's, along with a creativity at the position the Knicks have needed to go along with their star power. And yet Lin was not through. In his first start in an NBA game, Lin followed up with 28 points, 8 assists, 2 steals, and a charge, along with an alarming 8 turnovers.
Needless to say, New York fans went bonkers.
Here was an undrafted kid out of Harvard (Harvard!), taking the reins at the world's most famous arena, without
Amar'e Stoudemire
due to a death in the family, and without
Carmelo Anthony
due to a groin injury, winning a game and looking superb while doing it. If excitement among NBA fans over single games from young players grows fast across the league, it moves at warp speed in New York. The excitement isn't just palpable, it's sweating down your neck in the elevator while you're praying you get to your floor before it vomits on you in excitement.
So with Lin making his second start Wednesday night against the Washington
Wizards
, there's kind of some pressure on Lin to live up to the hype.
There have been other breakdowns of Lin's game, and surely on Twitter you will find a bevy of analysis and opinions on Lin ranging from "future All-Star" to "fluke who will crash to the earth and burn in another pile of disappointment and failure Knicks fans have come to know so well." Certainly you can't really put much stock in two games. But having gone back and watched his work in those two games, there are some elements of Lin-ear progression I wanted to share.
Split Reaction
It makes sense, when you think about it. You're guarding an undrafted rookie who flamed out of Golden State and Houston. Why on earth would you want to guard against him performing one of the most difficult maneuvers in the NBA? But for some reason, neither the Nets nor the
Jazz
chose to heed the damaging mounting evidence that yes, Jeremy Lin can and will split your double team off the pick and roll and yes, you do need to hedge him baseline as far as you can.
Lin's work in the pick and roll has been superb as stated above. It's not just the mechanics or the results. It's that he shows a natural feel. He's not throwing passes on clockwork, counting in his head before whipping regardless of how the defense reacts, nor is he immediately pulling up for a jumper or waiting too long to evaluate when coming off the screen. He's reacted with sharp, smart passes. Three of his turnovers (out of his total and disturbing eight) against the Jazz came because his teammates simply weren't expecting him to make a pass of that quality. Likewise, three assists were clearly blown for the same reason. With time and practice, that chemistry will improve.
But what has made Lin so dangerous in these two games has been his split of the double on the pick and roll. Teams have constantly funneled him to the middle, daring him to try and dribble past the big defender and the guard, closing off the baseline. In short, Lin has annihilated teams with it. He's slipped between defenders, used a dribble hesitation to freeze the third defender (when there; the Nets didn't have a third defender, they just kind of watched him score), then slip around him for a layup and often an and-one. If Randy Wittman has done any sort of scouting, he'll have Wall fight go under the screen, keep Lin in front of him, and push him to baseline. If they switch, a better move would be to have the big defender hedge Lin out as far as possible. Even if he gets the edge, it's not as familiar or as comfortable for Lin to attack from that angle, and forces the action away from the roll man. Lin can still create scoring as he did against Utah at time by dishing to
Steve Novak
if the wing defender comes to help, but if Steve Novak kills you, Steve Novak kills you. Gotta live with something.
An Additional Point
The NBA league average for rate of plays ending with an and-one according to HoopData.com is .3 per 40 minutes, for 2.4 percent of the time. Jeremy Lin is averaging 2.6 per 40 minutes at over 13 percent of the time. For comparison, through 795 minutes this year,
Monta Ellis
has 8 and-ones. Through 136 minutes, Jeremy Lin has 7. What I am trying to get at here is that Lin has been ridiculous at drawing contact and finishing. Lin actually has a right decent step through move. Much has been made of forcing him to his left, but he's able to finish with either hand, even if his left isn't as strong.
But it's highly unlikely that's sustainable. Some of it is sheer shock by the defenders ("Is this guy really getting past?") Some of it is terrible defense on the part of New Jersey and Utah, and some of it is officiating being influenced by the momentum of both the crowd and the story. These things happen. The kid has done wonders to convert those opportunities, but it's hard to see that rate continuing even for another night.
Space Cadet
But his ability to finish with contact does bode well for the Knicks. Last game on the Knicks' whiteboard the word "SPACING" was emphasized, and for good reason. The Knicks' inability to space the floor has been one of the reason its offense has been a jumbled mess. A rolling, driving point guard does wonders for that element, and we've seen that with Lin's play through two games. It's not just the pick and roll, it's that ability to finish at the rim that pulls the defense in and allows for perimeter opportunities. Lin's quickness and elusiveness allows for that. The passing is just the icing on the cake.
Every Dream's Got To End Sometime
The Knicks' fan reaction has largely not been one of predicting a trip to Springfield for Lin down the line, just a hope that he can be the point guard to help the offense function, once they have all their components back (which won't be for a while -- Melo's out 1-2 weeks with the groin injury, Stoudemire understandably won't be back from being with family following the death of his brother until at least Monday).
There's likely going to be a peel back. Lin gets to have a bad game. It is the Wizards, but if you're looking for an athletic, long defender to corral Lin,
John Wall
's as good a place to start as any, and
JaVale McGee
down low (provided he's not running in the other direction) should deter Lin's attempts at the rim. But what Lin did these two games has not been
Magic
or simply throwing up shots. He's been patient, he's been smart, and he's been effective. Maybe he will crash back to earth. But watching this ride has been as fun as anything else this season. I mean, come on, can you really beat this? (
Via Posting and Toasting.
)