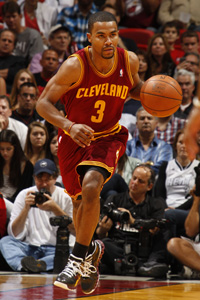 The Cavaliers reportedly want a first-round trade pick for Ramon Sessions.
(Getty Images)
By Matt Moore
Ramon Sessions
has been on the trade block for, well, pretty much his entire career. And now a report indicates there is a price in place for the talented, but never-starting point guard. From the
News-Herald
in Ohio:
Guard Ramon Sessions is expected to opt out of his contract after this season. He'd be seeking a multiyear deal. He's scheduled to earn $4.6 million next season.

That's one reason you'll hear Sessions' name a lot in trade talks, as evidenced by recent rumors of the Los Angeles Lakers and New York Knicks inquiring about his services. The Cavs want a first-round pick in exchange for Sessions.
via
NBA: Bob Finnan's three points and rumor mill - news-herald.com
.
The problem with reports of this nature is they give no indication of what "a first-round pick " means. There's a huge gap in the NBA between picks No. 30 and No. 15 and No.15 and No.1. So a first-round pick has a world of difference. If the Cavaliers are asking for a 10-15 pick, thats likely high. Likewise, a pick that would facilitate a trade to, say, the Lakers likely would mean something under his value, even if packaged with a contract filler player.
The Cavs do need to move him, however. He has too much value on their bench but not nearly as much as budding star
Kyrie Irving
. The Lakers and Knicks have both been linked to talks with the Cavs, but with budding young point guard
Jeremy Lin
making waves in New York and the Lakers still eyeing a major trade for
Dwight Howard
, th eoptions may not be there.
Sessions is also having a down season, shooting only 34 percent, while holding relatively steady in assist rate. Sessions is likely to get offers, but that first-round pick likely doesn't have the value it did a few months ago. With Kyrie Irving's concussion, however, it'll be a while before the Cavs resume talks should they come in.