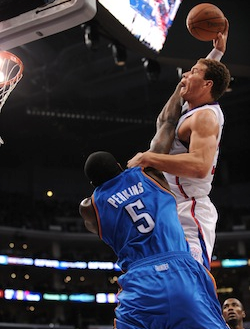 Perkins didn't mind getting dunked on, he just didn't like the reaction.
(Getty Images)
Posted by
Royce Young
For almost 24 hours after
Blake Griffin
detonated a dunk over him
,
Kendrick Perkins
trended worldwide on Twitter. Griffin's dunk changed Perkins' reputation from the tough guy in the paint to the guy that got posterized.
No bother to him though, he says.
Via Yahoo! Sports
:
"If I was in the same position, in the same rotation, I'm going to jump again and again and again," Perkins told Yahoo! Sports. "I don't care. A lot of people are afraid of humiliation or don't know how to handle embarrassment or would even get embarrassed. I don't care.

"I'm the same Perk you're going to see. I'm still going to sign autographs the same way. I ain't going to change. The people that move out the way and stuff are the people who have insecurity problems.

"That's my job. How will my teammates look at me if next time I just back out the way and just let him dunk when I'm supposed to be defensive-minded, a shot-blocker? That would be a coward move on me. He'd just have to dunk on me again."
One thing that did bother Perk though?
LeBron James
' reaction to Griffin's dunk. Specifically, his excited tweet about it that said, "Dunk of the Year! @blakegriffin just dunked on Kendrick Perkins so hard!!! Wow! I guess I'm No. 2 now. Move over #6." LeBron of course talking
about his dunk
over
John Lucas
III.
Said Perkins:
"You don't see Kobe [Bryant] tweeting," Perkins said. "You don't see Michael Jordan tweeting. If you're an elite player, plays like that don't excite you. At the end of the day, the guys who are playing for the right reasons who are trying to win championships are not worrying about one play.

"They also are not tweeting about themselves talking about going down to No. 2. I just feel [James] is always looking for attention and he wants the world to like him."
One thing to note: I think the reason you don't see Kobe or Michael Jordan tweeting is because they aren't on Twitter. Just a theory.
But Perk's sour grapes here about LeBron seems a bit petty to me. A lot of players tweeted about Griffin's dunk, including Chris Paul, Magic Johnson and Kevin Love. I do see Perk's point though in that the way LeBron's tweet was worded makes it seem like LeBron is a tad vain.
The Heat play the Thunder March 25. That game was already must-watch, but it's got another storyline with it now. I think LeBron might try to Mosgov and Lucas Perkins all that the same time.