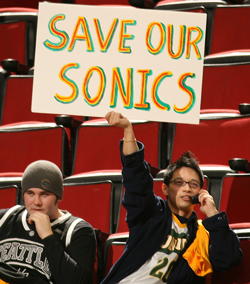 Is momentum building for the NBA's return to Seattle?
(Getty Images)
Posted by
Ben Golliver
There are basically five standards necessary to land an NBA team: a market with demonstrated interest in basketball, a super rich person willing to cut checks, a working relationship with commissioner David Stern, a building to play in, and an available franchise to poach. Absent any one of those five key features, and it becomes significantly more difficult -- if not impossible -- for a city to land itself one of the 30 NBA franchises.
The good news for Seattle: they apparently have secured three of those five.
Step one: the fanbase has never been in question, thanks to a long history of supporting the SuperSonics. Step two:
the Seattle Times reported this weekend
that Christopher Hansen, a hedge fund manager with beaucoup
Bucks
and ties to the Seattle region, is interested in landing a franchise.
And, now, step three: Stern
told the Salt Lake Tribune
that he has met with Hansen and that Seattle is now officially back on the NBA's radar for a possible franchise relocation.
"We had heard reports of some interest in Seattle and the name of the person who's associated with it is not totally unknown to me. I think he came in and I met with him, it must be a year ago. Just a general conversation; he was brought in by a mutual friend," said Stern, during an exclusive, wide-ranging interview Monday with The Salt Lake Tribune at the league office.

"Everyone says to us, 'Well, would you consider going back?' Of course, if they have a building. And so that's where it's left. We have no involvement," Stern said. "But we certainly are — if anyone asks us, we tell them what we know and we're happy to talk to them. … There's no shortage of potential sites, but the funding is a huge issue."
Of course, the key quote there is: "If they have a building." That was one of the key deciding factors in the SuperSonics leaving for Oklahoma City to rebrand as the Thunder prior to the 2008-2009 season. KeyArena simply isn't up to the usual NBA standard, and numerous arena plans in Seattle have been floated in recent years with no firm plans emerging and a reluctance from taxpayers to foot the bill.
The Seattle Times reported Tuesday
that Hansen is already at work on the arena issue, stockpiling land near Safeco Field, home of Major League Baseball's Seattle Mariners, and communicating in detail with Seattle Mayor Mike McGinn.
Hansen, who has built a fortune in the private investment world, has acquired property south of Safeco Field's parking garage, between South Massachusetts and South Holgate streets east of First Avenue South, records show.


His investment group has yet to produce a firm proposal to McGinn, who has said that the group must make a substantial financial commitment with no new taxes to fund an arena.
All of that leaves just the one, final remaining standard: Which team would move to the city? The obvious answer would be the
Kings
, who tried and failed to move to Anaheim after the 2010-2011 season and are now working through an effort to build a new arena so that they can remain in Sacramento long-term. Stern told the
Tribune
that the Kings had been taking "very positive" steps to remain in Sacramento.
What does all of this mean for the future of professional basketball in Seattle? Nothing definitely, but being back on the map is important. A motivated, patient and hard-working Clay Bennett eventually succeded in landing the Thunder in Oklahoma City. The process took years to play out, but his relationship with Stern was a key factor in getting it done.
If there's a will, three hundred million dollars, and an arena, there's generally a way in Stern's NBA.