Posted by
Royce Young
and
Ben Golliver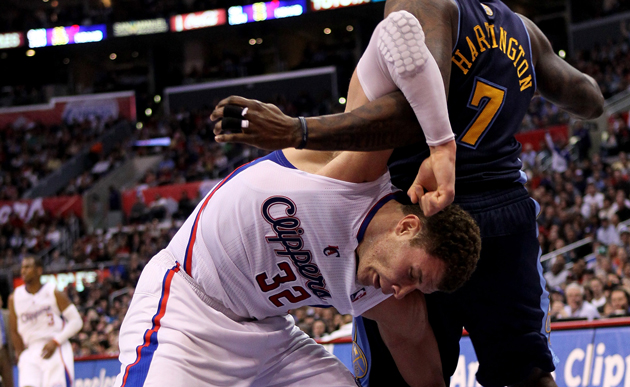 The Clippers have their hands full over the next six weeks.
(Getty Images)
The 2011-2012 NBA season continues. Here's the eighth weekly installment of
CBSSports.com's NBA Power Rankings
by Eye On Basketball's Matt Moore.
What did he get right? What did he get wrong? We're here to break it down and take it down.
1. Too High: Los Angeles Clippers at No. 6.
This isn't really a knock against the current ranking, which is right in line with their performance to date, but a prediction of the certain trouble to come. The Clippers continue to have played well more home games (13) than road games (9) and that will catch up with them. The good news is that they are off to a nice start on their current road trip, having won the first two games, but things will get tougher with match-ups in Philadelphia and in Dallas and the loss of
Chauncey Billups
casts a big shadow over what will be a brutal March, when the Clips will play 20 games in 31 days, including six back-to-backs plus a back-to-back-to-back.
Mo Williams
is great, but he's only one man. In other words, just sell your stock in them now. There's nowhere to go but down. And
Blake Griffin
would do very well to keep his All-Star Weekend participation to a minimum. -- BG
2. Too Low: San Antonio Spurs at No. 7.
Here are the last five games for the Spurs: Memphis, Houston, New Orleans, Oklahoma City and Memphis again -- all wins. The Spurs have climbed to the West's third seed and have done it with
Manu Ginobili
just a week or so away from returning. So to have them behind the Clippers, a team that potentially just lost their starting 2-guard for the season, doesn't seem right. The Spurs are playing like a top five team and are probably just finally getting stretched out. -- RY
3. Most Overrated: Orlando Magic at No. 13.
I don't really care what the Magic do right now or what their record is. The sins of the past couple weeks are way too fresh in my mind to give them a top 15 ranking. They've scored in the 60s three times this season. Yeah, they won three of four last week but two of those included wins against Cleveland and Washington. The Magic will make the playoffs, assuming
Dwight Howard
doesn't get dealt, but this isn't a team to fear. There are simply too many issues. Good enough to beat the bad teams, average enough to beat some mediocre teams but not anywhere close to elite to beat the great teams consistently. -- RY
4. Most Overlooked: Memphis Grizzlies at No. 18.
The Grizzlies have fallen a game under .500 and out of the West's top eight, but their losses in the past week were respectable. They whipped the
Hawks
but came up just short against OKC and San Antonio while the
Celtics
handled them. It's easy to completely start disregarding Memphis because of their record, but this team had a lot of preseason buzz for a reason. They need
Zach Randolph
back badly and when they get him, that's a group nobody will want to play in the postseason. Assuming they can do enough to get there. -- RY
5. Sure Thing: Indiana Pacers at No. 5.
Through 24 games, the Pacers are right on track for their best case scenario. They're sitting pretty with potential homecourt advantage in the Eastern Conference and they're right there in the mix for the No. 2 spot on the East charts. They'll likely fall somewhere in the 3-6 range but they've got a well-balanced roster that is going to make for a very tough out in the playoffs. Is
Darren Collison
the weak link? Expect more discussion to surround him. The
Paul George
/
Danny Granger
/
David West
combination could really be something come the postseason. -- BG
6. Wild Card: Denver Nuggets at No. 10.
Once the West's No. 2 seed, the Nuggets are on a 3-game skid and just got the news they will be without forward
Danilo Gallinari
for a month. That's a big blow. The tough part in the West is that it doesn't take too many 3-game skids before you've dropped a number of playoff seeds, given how tightly things are wrapped up betwen spots four and 11. The really brutal news for the Nuggets is that 10 of their remaining 11 games in February are against Western Conference teams, including the
Mavericks
twice, the Grizzlies, the
Thunder
, the Clippers, the Spurs and the Blazers. Oof. -- BG