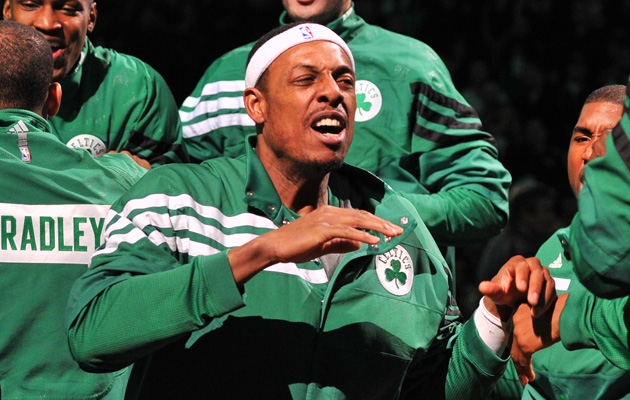 Paul Pierce passed Larry Bird on the Celtics' all-time scorer's list Tuesday.
(Getty Images)
By Matt Moore
Paul Pierce
passed Larry Bird on the Celtics'
all-time scorer's list
Tuesday night in the third quarter of Boston's game against the Charlotte
Bobcats
. Pierce now stands at No.2 all-time on the Celtics point leaders behind John Havlicek who has 26,395 points, a little less than 5,000 more than Pierce.
It did take Pierce 88 more games to catch Larry Legend, at a more lower percentage. But that's the territory when it comes to passing one of the greatest players of all time, and had Bird remained healthy towards the end of his career, or began his career earlier with the Celtics, it's unlikely Pierce would have caught him.
But he did.
This is why Pierce should not be traded by Boston, even if things were to fall apart for the Celtics before the trade deadline. Pierce has been a Celtic since he was drafted, and should retire as one. He has had MVP worthy seasons, and been a contributor and leader for a championship team. His brilliance is understated, it's not made for bronze statues, but it is in no way unworthy of being discussed among the greats.
Most franchise records are quality levels. But the Celtics are a different matter. Pierce now stands above Parrish, McHale, Bird, Russell, Jo Jo White, and Tommy Heinsohn for point scored in green. It is a franchise not just with a lot of history, but great history. It is layered in greatness, and Pierce's position at the top behind Havlicek warrants his entry into discussions for the greatest Celtics ever, even if he doesn't necessarily stack up with the other Hall of Fame members. Pierce will have his own entry into the Hall, his own place in Celtics lore, his own spot in his fans' hearts.
As
Gary Washburn of the Boston Globe notes
, Bird had roughly 1,400 more field goal attempts than Pierce, and shot .05 percent better from the floor. So how did Pierce catch him? The three-point line. Pierce made 1,615 3's compared to 649 for Bird. Bird could hit from distance, he just didn't. Pierce did. In fact, in a moderm metric called True Shooting percentage, which factors three-point and free throw shooting, Pierce actually leads Bird .569 to .564. This doesn't make Pierce a better shooter than Basketbal Jesus, just maybe a more efficient in the modern sense one.
The Garden crowd predictably gave him a massive ovation for the feat, continuing for several minutes. Here's the shot.
Here's Pierce from a few days on the accomplishment.