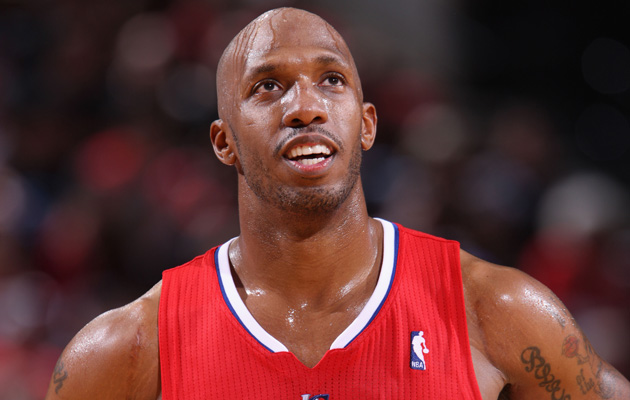 Chauncey Billups will miss at least eight months after suffering a torn left Achilles tendon.
(Getty Images)

By Matt Moore
You have to wonder how angry at fate
Chauncey Billups
is.
Billups was traded from Detroit to his hometown of Denver. He was part of a winning team there, advancing to the Conference Finals and giving the
Lakers
a fight. Things were headed in a good direction for him to finish his career as part of a contender.
Less than 24 months later,
facing surgery to repair a torn Achilles tendon
, there has to be a lot of confusion and resentment over how things got to this point.
After all, it wasn't Billups who wished to leave Denver. He had his agent leak that he would be unhappy being part of any move made. But the
Carmelo Anthony
saga was bigger than Billups, bigger than any of the other nearly dozen players involved. Billups was sucked up into it and shipped to New York. And Billups went along with it. He was a pro. He tried working in a system that was not suited to his needs, dealt with having his pride damaged by essentially being a tag-a-long to the gunner star Melo and his reality television wife. Here was a player who had a title to his name suffering to the whims of a superstar without jewelry. But he went along with it.
The
Knicks
were looking at moves. Billups
asked them to not trade him
. Then the Knicks started talking about bringing in
Tyson Chandler
, which would mean they'd need to amnesty Billups. Fine with him, he'd still get paid. But the way the amnesty structure was set up in a CBA (which Billups likely did not want but was willing to take like the rest of the players just to end the lockout), another team could claim him off waivers for a portion of his salary. For Billups,
that was enough
. He'd dealt with being traded like meat, that comes with part of the business. He'd dealt with being baggage to the Melo circus, again, part of the business. He'd done his best in New York like a professional. But if he was going to be waived, he was not going to wind up on a cellar-dweller.
So he made it known
. A professional his whole career, a locker-room leader and NBA champion, he had to openly threaten teams with disrupting their teams if they tried to bring him into a rebuilder.
The
Clippers
took him anyway.
And Billups was not happy about it, but in the end, his professionalism won out. He didn't show up surly. He didn't show up angry. Even when once again he became a part of a freakshow with the trade of
Chris Paul
, he did his thing. They wanted him to move to shooting guard. Sure thing.
And now, this.
Maybe he would have gotten injured anyway. Maybe his Achilles was a ticking time bomb. And he still gets paid, after all. The full amount of his contract. But consider that it's likely that Billups' career ends this way:
He suffered a potentially career-ending injury playing for a team who signed him off amnesty waivers after he specifically asked them not to using a clause in the CBA which he did not want from a team he didn't want to be sent to in the first place due the Melo drama which had nothing to do with him.
His season is over. He will not play for Team USA this summer. His career may be over.
It is not difficult to come to the conclusion that Chauncey Billups deserved better than this.
-----------------------------------
-
As for the Clippers, many will begin talks that this damages their team irreparably. But a quick look at the roster confirms that the Clippers are in as good a position to survive this as any team can be. They have a number of options. Observe:
1. Move
Caron Butler
to shooting guard, start
Ryan Gomes
. Butler has flourished in the small forward position, stretching the floor. But he can just as easily move to two-guard. Ryan Gomes can fill the gap at small forward and from there out, the Clippers employ a large number of three-guard lineups anyway.
2. Start
Randy Foye
, keep
Mo Williams
off the bench, Butler stays at the three. This is what the Clippers have done when Billups has missed games due to a myriad of injuries. Foye is not at all Billups, but he is younger and more athletic. What's more, Foye is less likely to force the issue and try and score on his own, more likely to facilitate both Chris Paul and
Blake Griffin
along with Butler.
3. Start Mo Williams, bring Foye off the bench. Mo Williams has been a potential sixth man of the year candidate this season and has played exceptionally well. He would likely welcome a move to the starting lineup for his pride's sake and despite not having Billups' size, can work just fine next to Paul as a shooter. Williams is a scoring point regardless, and with the Clippers using Paul as a decoy on many possessions anyway, Williams can create with Griffin and
DeAndre Jordan
just as well.
4. Sign J.R. Smith, use either he or Mo Williams off the bench. Smith is due to be released from this obligations with the Chinese Basketball Association sometime in the next three to six weeks depending on playoffs. The Clippers
are being heavily discussed as a suitor for him
, and it would be a natural fit. They don't have the cap space to offer him a long term deal, but he could come in immediately, be given as many shot as he can find room for, and play for a team in contention. This scenario makes the most sense, whether it's him or or Williams off the bench.
The Clippers will miss Billups' on-floor leadership, his scoring, his defense, and his experience. But Billups also hasn't been a very productive player due to age. He fit well on the Clippers, but with their guard depth, they're well-suited to withstand this blow in time. It doesn't make it any better, but it's still a huge loss, but it's not one that creates a crisis in their backcourt. This team has too much talent left and too much at stake not to press forward.