Posted by Royce Young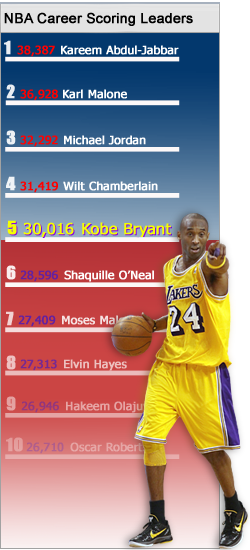 Kobe now has pretty much every bragging right he needs over Shaquille O'Neal. Rings (5-4, Kobe) and now points.
Kobe passed Shaq on the NBA's all-time scoring list with a deep 2-pointer with 5:08 left in the second quarter Monday against the
76ers
. Of course, fittingly, Philadelphia being Bryant's hometown. Sixers coach Doug Collins pulled a classy move following it by calling timeout to let there be some acknowledgment of the milestone.
Kobe now stands with 28,597 career points which places him fifth all-time behind Wilt Chamberlain (31,419), Michael Jordan (32,292), Karl Malone (36,928) and Kareem Abdul-Jabbar (38,387). So currently, Kobe is a little less than 10,000 points behind Kareem meaning he would have to average about 23 points per game over the next five seasons (assuming he plays in all 82 games), to finish No. 1.
Bryant, who is still just 33 years old, could potentially do it. But he's played in a lot of games though and his body could wear out before he gets there. Abdul-Jabbar probably isn't in play, but Chamberlain and Jordan definitely are. There's a strong possibility of Kobe finishing third all-time in scoring. That's just...
incredible
.

Here's what Matt Moore of CBSSports.com wrote Monday
about Kobe passing his former teammate:
When Bryant passes O'Neal, however, it will not be the petulant child crossing the pillar of dominance without validation. Kobe Bryant, remarkably, considering what we thought that summer in 2004, has proved himself the better player. He is the second best shooting guard the game of basketball has ever witnessed.

Were it not for his airness, he would likely be regarded as the best player of the modern era, arguably the best of all time. That he is measured constantly against the complete, nearly spotless, and unfathomably incredible resume of Michael Jordan only fuels the fire that is the public debate over Kobe Bryant. Never as good as Jordan, but good enough to dare and make the ascent to try.
As for passing Shaq, it took Kobe 1,128 games to reach this mark while it took Shaq 1,207. Over his career, Kobe has averaged about two more points per game than Shaq partly because of the final four years of Shaq's career where he barely averaged double-digits while battling injuries and age.
Kobe Bean is now a top five all-time scorer though, which is an incredible place to be. It's a little hard to really put his career in perspective right now because it's not finished, but when it's all said and done, you'll be able to put Kobe's resume up against pretty much anyone's.