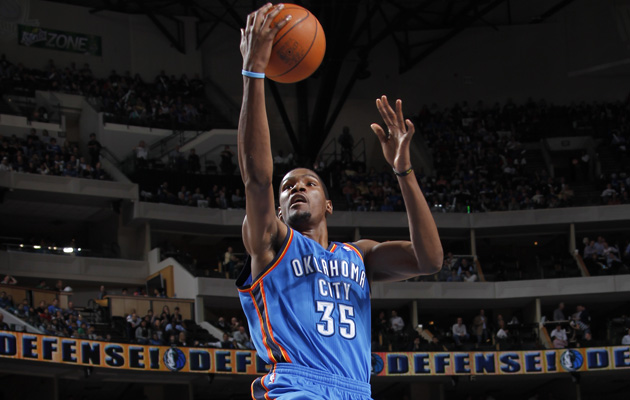 Kevin Durant has made a push up the MVP rankings as the Thunder keep their hold on the West. (Getty Images)

By Matt Moore


Eastern Conference Player of the Week: Best Overall performance by Eastern Player
Derrick Rose
Going to be honest, this, much like the 2011 MVP award, is largely based on LeBron fatigue. James had 40 points and 35 points back to back, along with double-digit rebounds. But, hey, we get bored with guys winning every week. Rose, on the other hand, shouldered the load with
Luol Deng
out, and went 3-1, scoring 32-plus points each and every time. He was prolific against New York with 32 points and 13 assists, despite more free throw issues late.
Derrick Rose doesn't have slumps. He has blips.
Western Conference Player of the Week: Best Overall performance by Western Player
Kevin Durant
Durant scored 95 points on 66 shots through three games this week before the
Spurs
ran the Thunder ragged. Double-digit rebounds in all. Durant's been on the MVP list as a "oh, we should put KD on there, what with the Thunder so good and all." But this is the week Durant's really stepped up and put his stamp on the picture. He's averaged 28 points per contest in his last 10 games, is third overall in scoring per game, and is second in Player Efficiency Rating behind
LeBron James
.
DOMINATOR AWARD: Most dominant performance
Defense is really popular in the NBA blog vernacular. Drawing fouls. Plus/minus. Rebounding. And there are valid reasons to value all of those things. But basketball does in fact come down to guys in one jersey throwing the ball through a cylinder being defended by the other team. And this week,
Anthony Morrow
did that better than anyone. 42 points in a loss to the Wolves, on 13-20 shooting, with 8-11 of those coming from long range. That's just ridiculous shooting.
The Puzzling Enigma Award: Strangest week from player or team
Houston
Rockets
.
The Rockets were -11 for the week, just when they were starting to get hot.
Kyle Lowry
had a bad week before regaining form Saturday night, while
Luis Scola
had his face stepped on. They lose to Minnesota twice, the Spurs once, and beat the
Suns
by double digits. There's just no telling what you're going to get from this team night to night. They can look like the kind of team that can run to the second round one minute and the kind of team that loses to Minnesota by a combined 21 points over two contests in a week the next. Minnesota's pretty good, but Houston' inconsistencies across the board are baffling.
The Marv: Broadcast Call of the Week

Ian Eagle
On the
Nets
' broadcast of their loss to the
Knicks
, after
Jeremy Lin
finished another tremendous play on his way to 25 points and 7 assists, Eagle shouted "Jeremy Lin! Where did this come from?!" and it was a perfect summation of the moment.
The Horde Award: Team you should fear
Boston
Celtics
It. Is. Alive. After a workman-like victory over the
Grizzlies
Sunday, the Celtics improved to 8-2 in their last ten. They have a stiff schedule coming up, but the Celtics are looking more and more like the contender of old rather than just, well... old. Their defense is closing off lanes, their shooters are hitting shots, and
Avery Bradley
,
Sasha Pavlovic
,
E'Twaun Moore
, and
JaJuan Johnson
are contributing (?!).
Do the Celtics look like a Finals contender? No. But they do look like an extremely tough out, and they've got three more months to fine-tune.
Cub Scout Troop Award: Team you should not fear
New Orleans
Hornets
Remember when they started the season and were competitive and it was all "Wait 'til
Eric Gordon
gets back!?" The wheels, they have departed the wagon. Please enjoy your brief flight before hitting that brick wall. You can tell most of the Hornets don't want to be there, and the ones that do are injured. It's a tough situation for everyone, from management on down to the training staff and bench guys. Their season ended before it began.
Searching For Bobby Fischer Award for Stratagem:
I'm going with Byron Scott for letting
Kyrie Irving
take the reins down the stretch in big games. Scott is as wary as any other coach of giving rookies big moments, but Scott has realized that Irving is the franchise and he needs to learn these moments. The No. 1 overall pick out of Duke is making the most of it and killing teams that let the Cavs hang around late. Sometimes you have to deal with the bad and the good to let a kid grow, and even in a defeat to the Celtics, Scott let Irving off the leash. Good look for the Cavs.
Awkward Water Cooler Conversation Award for Coaching Struggle:
Avery Johnson
Jeremy Lin was fantastic on Friday night, giving the Knicks the playmaker at point guard they've needed so badly. But he should not have been able to destroy the Nets the way he did in the Knicks' win. The Nets continually pushed Lin to the middle and failed to respect his scoring ability. It's one thing after 10 points, but when a guy hits 15 or 17 points, you have to start respecting the damage he's doing to your club. Lin's last points came on a pick-and-roll split of a double team in which again
Deron Williams
played Lin to the middle. Lin's not going to be the Knicks' savior, but he was great for a night. Even without
Brook Lopez
, the Nets have to adjust better than that in game.
Blog of the Week: Posting and Toasting
A Knicks blog that manages to come off as charming and endearing instead of boisterous and braggardly, P&T is smart, funny, and shares a wide range of nuanced views on the Knicks, along with consistent terrific trivial content. A must for Knicks fans and league fans alike.
MVP Rankings:
1. LeBron James: This is just getting ridiculous.
2. Kevin Durant: Durant has hit "If you hold him under 30, you've done a great job" level.
3. Derrick Rose: Rose may have the best chance to win this just by playing in so many games and minutes. Becasue Tom Thibodeau RESTS NO ONE.
4.
Chris Paul
: The
Clippers
' crunch-time offense is essentially "Let Paul completely destroy the other team." His casual domination is incredible.
5.
Kobe Bryant
: Dragging the
Lakers
' offense kicking and screaming, but the efficiency is starting to slip again.
6.
Dwight Howard
: The
Magic
Kingdom is falling down around and because of him, but that doesn't lessen his valuable so much he falls any further than this.
7.
Russell Westbrook
: Lost in all the talk about Westbrook's offense is the fact that he's one of the few guards who can contain perimeter penetration one-on-one.
8.
Tony Parker
: The Spurs' all-time assists leader is averaging a career high in dimes this year, and his scoring is helping the Spurs keep afloat without Manu.
9:
Blake Griffin
: Has stepped up big-time lately, and anyone who dunks on Perkins like that should be mentioned.
10.
76ers
Bench: They can just accept this award collectively, right?
ROY Rankings:
1. Kyrie Irving: The youngster continues to impress. Yes, his numbers are based on fewer minutes per game than the all-time greats. But per-minute production from this kid is through the atmosphere.
2.
Ricky Rubio
: Rubio's clutch stats are so phenomenally high we wonder if he stole Melo's mojo.
3.
MarShon Brooks
: I'm not ready to dock the young man for his injury, when no one else has stepped up enough. Yet.
4.
Kawhi Leonard
: So. Many. Big. Plays. Guarded Kevin Durant admirably this week as he continues to impress with his savvy.
5. Andrew Gaoudelock: Stepping up for
Steve Blake
, all of a sudden the Lakers' faithful have a new kid to get excited about.
6MOY Rankings:

1.
James Harden
: His relative struggles when starting suggest he's going to keep coming off the bench, which means this award is his, done, over.
2.
Al Harrington
: Harrington has pressed in several games this week, but forcing the issue has also kept his team in it. A few more buckets falling or a rebound here or there and it might have been the difference.
3. Louis Williams: A stone cold assassin from long range.
4.
Jason Terry
: Same ol' JET.
5.
Jordan Farmar
: Farmar is hitting 46 percent from 3-point range this season, and averaging 18 points and 6 assists per 36. Coming around after a disappointing first year in New Jersey.