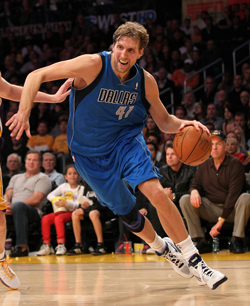 Dirk doesn't think he's been All-Star worthy so far this season.
(Getty Images)
Posted by Royce Young
After his demolition of the NBA last season and postseason, it's kind of hard to picture an All-Star Game without
Dirk Nowitzki
. He was clutch, incredible, terrific and dominant as he carried the Dallas
Mavericks
to a championship and had people wondering if maybe the big German was one of the NBA's three best players.
But after a slow start that had him missing some games, Dirk doesn't even think he should be on this season's Western All-Star team.
Via ESPN Dallas
:
"Averaging whatever, 15, 16 points, I don't think you should be an All-Star," Nowitzki said. "But we'll just have to wait and see. I think there is a lot of great young talent in this league that deserves to go. I think LaMarcus Aldridge has been stiff the last couple of years. He's a great young player, fun to watch. You know Blake and Love are playing great. There is a lot of talent at my position."
The only reason Dirk would make it would be to salute his work during the playoffs. Because he's right. White out his name and a guy carrying around those numbers wouldn't be deserving of making it, especially when there are guys like LaMarcus Aldridge,
Kevin Love
and
Paul Millsap
on the fringes. Dirk taking one of those coveted roster spots probably wouldn't be right. At least if we're determining it based on this season's merit.
That's the distinction though: Dirk not making the All-Star team isn't an indictment on him as an overall player, just one on the first month and half of his season. Not only did he start slowly, but he was battling some knee issues along with having to shut it down because of condition. He hasn't been All-Star worthy this season, if we're not just going by who he is and what he's done in the past.
Dirk would obviously appreciate the honor, but he's made 10 All-Star teams and might enjoy having that weekend off to rest up and get ready for a tough stretch run.
Via PBT