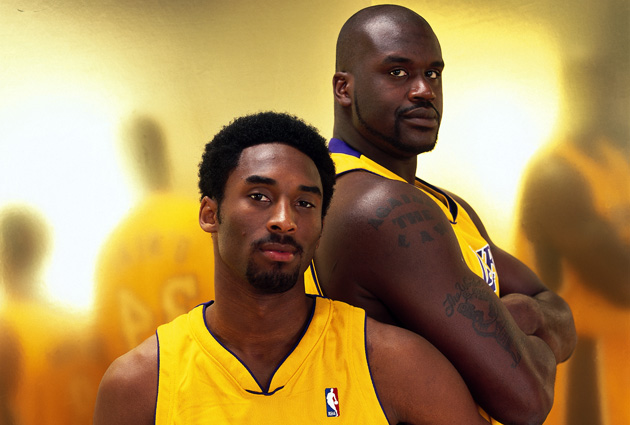 Kobe Bryant moves ahead of Shaquille O'Neal on the all-time scoring list Monday night.
(Getty Images)
By Matt Moore
Kobe Bryant
passed Shaquille O'Neal
on the all-time scoring list Monday night
with 28 points, passing the former
Lakers
center in the first half of a loss to Philadelphia.
Of Bryant's 1,127 games, he has scored 23 points or fewer in just 498. To put that in perspective, Bryant has scored 24 points or higher more often than he's scored less. Which is independently insane. So the odds were pretty great that Byrant would score 24 points Monday night. Bryant came out firing and lit up the Sixers in the first half to clear the mark before bottoming out and going 2-of-12 in the second half.
It set the stage for what nonetheless was a phenomenal night in Philadelphia, a home of sorts to Bryant, if anywhere can really be home for Bryant. Bryant was born in Philadelphia, and spent his high school career there. It was there he declared for the NBA draft right out of high school, and began a career that has become legend. And throughout that career, during good times and bad, he has been intertwined with the player he passed Monday, Shaquille O'Neal.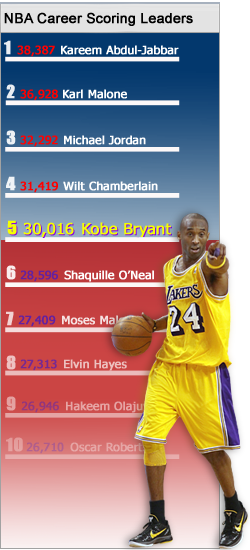 There is no narrative here of student and teacher. Bryant and O'Neal were no contemporaries. Shaq's prime came during Bryant's ascension. Bryant was not the man when O'Neal was in town, not in role, not in effect, not in personality. It was Shaq who was the face of the Lakers, and Bryant's brilliance was an underlining, a framing of that. But every year it became more and more apparent that it was Bryant in which the Lakers' future resided, and more and more apparent that the two could not co-exist.
I spoke with former
L.A. Daily News
and current
New York Times
reporter Howard Beck
for an audio magazine
I publish independently of CBSSports.com. Beck covered O'Neal during that championship run in the early 2000's, and in the interview he discusses how you can't discuss Shaq of that era without discussing Kobe, nor vice-versa. He spoke of how at one point O'Neal discussed in a private moment with Beck his ongoing tumultuous relationship with Bryant and how he himself, how neither side could understand why they couldn't get along.
And yet they did not.
The Lakers lost the 2004 title due to brilliant defense by the Detroit
Pistons
and an injury to Karl Malone, the Lakers traded Shaq for
Lamar Odom
,
Caron Butler
, and pieces, and O'Neal went on to win his fourth title. Bryant languished in L.A., trying to drag a poor roster deep in the playoffs behind his own monstrous individual performances. It was the birth of the questions of exactly how much Bryant should shoot, how much Bryant should try and score, whether he can make his teammates better.
It remains a debate, two titles later.
Bryant passing O'Neal, however, was not the the petulant child crossing the pillar of dominance without validation. Kobe Bryant, remarkably, considering what we thought that summer in 2004, has proved himself the better player. He is the second-best shooting guard the game of basketball has ever witnessed. Were it not for his airness, he would likely be regarded as the best player of the modern era, arguably the best of all time. That he is measured constantly against the complete, nearly spotless, and unfathomably incredible resume of Michael Jordan only fuels the fire that is the public debate over Kobe Bryant. Never as good as Jordan, but good enough to dare and make the ascent to try.
We talk of defense in the modern game. Of the pick-and-roll, and efficiency, of usage and help defense, of points per possession and win shares. But the game of basketball is built around one team, made up of five players, trying to score more points than the other. Kobe Bryant took another step up the scoring mountain Monday night, passing his rival, his former teammate, his former partner in championship glory.
Bryant's career isn't over. He's seeking revenge for a humiliating sweep to the
Mavericks
. He's cementing his legacy and still trying to prove he is the player his loudest advocates suggest. He scored, he passed O'Neal, he will move forward to the next game. But it's important to take this moment and recognize that Bryant passing O'Neal isn't simply a matter of digits. It's a microcosm of where Bryant came from, Philadelphia, where he came to prominence, alongside while simultaneously versus Shaq, and where he has arrived, as the elite scorer of the modern age of basketball.
28 points on 26 shots. Passing another legend, losing the game. The fire of debate over Kobe Bryant continues.