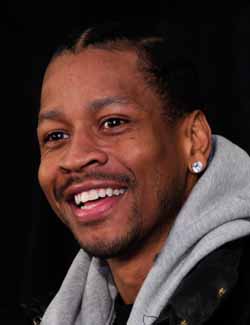 Iverson wants to make an NBA comeback, but it might have to start in Puerto Rico.
(Getty Images)
Posted by Royce Young
For some guys, it's just harder to let go than others.
Allen Iverson
had a failed comeback in the NBA last season and then a failed stint in Turkey. Common sense might say it's time to just hang it up, but Iverson is potentially looking at another comeback. This one coming in the Puerto Rican professional basketball league.
Via Yahoo! Sports
:
Allen Iverson and Puerto Rico's professional basketball league are engaged in exploratory talks about a possible deal for the 11-time NBA All-Star, sources told Yahoo! Sports.

Iverson's business manger Gary Moore has talked with Puerto Rico officials, and the league's teams are discussing a bidding process to woo Iverson.

The Puerto Rican league, which starts its 30-game season in March, pays its stars about $20,000 a month, plus living expenses, sources said. The league's commissioner is selling Iverson on the chance to work his way back to a possible return to the NBA.
By the sound of the report, it's more than the Puerto Rican league is pursuing Iverson and less than Iverson is pursuing them. Obviously Iverson would be a bigger draw than any player currently in the league and a much-needed boost in selling tickets.
It's not a place totally devoid of NBA talent though. This season
Rashad McCants
and Ike Diogu are both spending the 2012 season there. Puerto Rico has a better basketball tradition than you think, putting out good NBA players like
Carlos Arroyo
,
Renaldo Balkman
and J.J. Barea.
The report says Iverson's representatives reached out to NBA teams this season about interest in signing The Answer, but the response wasn't met with much enthusiasm. Iverson hasn't played in the NBA since 2010 when he was released by the
Grizzlies
and failed making an impact in returning to Philadelphia. After that, he tried to play in Turkey but an injury (and possibly other issues) brought him home early.
Iverson, 36, is hoping for a comeback and working out for one. But if it's going to happen, he's going to have to prove he's capable of playing. In October,
Iverson told Yahoo!
that he'd "play for anybody." That anybody might have to be in Puerto Rico though.