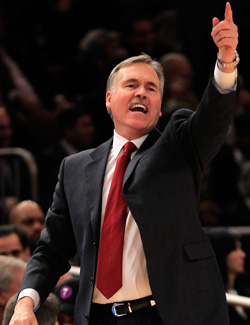 Posted by Royce Young
The
Knicks
finally broke an ugly stretch where they had lost 11 of 13 by beating the
Nets
behind a surprise performance from
Jeremy Lin
. Still, the seat coach Mike D'Antoni is sitting on isn't warm or even hot. It's seat-belt-in-the-summer-time hot. I'm surprised he's even sitting in the thing during games and not just standing.
But he's not about to be fired as of now,
according to Newsday
:
A league source said D'Antoni isn't in danger of losing his job. If the losing continues, however, that could change.
D'Antoni has said he's not thinking about his job and while we all obviously know that's not true, the fact is, he can't worry much about it. He's got bigger issues to figure out and in his mind, things could be looking up soon.
Baron Davis
might finally be able to contribute something and then there's the chance J.R. Smith or even
Aaron Brooks
sign with the Knicks after they are released from the contracts in China.
"It doesn't do anything for me," D'Antoni told the paper. "If I do my job well, then things will be good. If we don't win, it will happen. I'm not worried one way or another, to be honest with you. I know, it's kind of, 'Yeah, right.' That's one good thing about being 60 years old. You don't have to worry too much."
But a 9-15 record and struggling for a playoff spot was not the plan for the Knicks this season. It's unfair to pin this on D'Antoni because he's not playing with a full deck as he's without a real point guard, but still, the fact New York has had so much issue scoring doesn't reflect well on him.
He has to feel somewhat better considering the win over the Nets plus two competitive losses against the
Celtics
and
Bulls
. That's losing two out of three, which isn't acceptable, but it appeared the Knicks were moving forward.
Carmelo Anthony
is getting healthier, they're scoring better and there's a bit better symmetry it appears.
Still, D'Antoni isn't going to make it through the season with the Knicks playing sub-.500 basketball. That roster isn't a finished product and a good portion of the team's failures aren't on him, but someone has to pay and it's pretty much always the head coach. All D'Antoni can do to stop it from happening is win. Otherwise, he's going to have third-degree burns on his backside soon.