Posted by
Ben Golliver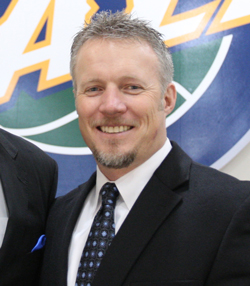 Jazz CEO Greg Miller went off on Karl Malone on his blog.
(Getty Images)
Things are getting really real in Utah.
This is a long, complicated and hyper-emotional soap opera, so I'll do my best to distill the key details.
Hall of Fame Utah Jazz coach Jerry Sloan abruptly retired during the middle of the 2010-2011 season after reportedly getting into a locker room argument with All-Star point guard
Deron Williams
. Everyone involved was really upset, given Sloan's long tenure as one of the most well-regarded coaches in the league. Williams was traded soon after to the New Jersey
Nets
.
As things unfolded, Hall of Fame Jazz forward Karl Malone rushed to the defense of Sloan and insinuated that the Jazz hadn't done right by Sloan. He later claimed
in a Salt Lake Tribune column
that the Jazz also had not offered him tickets to the first game of the post-Sloan era, forcing him to purchase scalped tickets for himself.
This particular claim totally set off Jazz CEO Greg Miller, who
wrote on Twitter
that Malone was "lying" and then doubled-down on his angst by penning a piercing 1375-word blog post in which he aired decades of grievances and family business. In his post,
published on his blog GregInUtah.com
, Miller calls Malone "high maintenance," "unreliable," "unstable," and said that he would be unfit to serve as a coach for the Jazz big men.
Miller provided a laundry list of Malone's alleged flakiness and then offered his take on the ticket scandal, writing that Malone was using the situation as a stage to lobby for a job with the Jazz.
A year ago, when Jerry retired, Karl rushed to Salt Lake City. He got in front of every camera he could find at the first game following Jerry's departure. He positioned himself as an authority on Jerry's departure by saying something like "the Jerry Sloan I know isn't a quitter. He left because he didn't feel wanted." Karl wasn't in the locker room during the conversations with me and Jerry. Had he been, he would have seen me (and my mom) do everything possible to convince Jerry to stay. By his own admission Karl hadn't spoken to Jerry since Jerry left. Karl's comments on the radio and on national television made an already stressful situation worse. Then in his next breath, on national television, Karl asked me to hire him as a coach.


These are just a few experiences I've had with Karl that clearly demonstrate that he can't be counted on. I am not willing to invite the elements of unreliability and instability into the Jazz organization. It would obviously do more harm than good.
The Salt Lake Tribune reported
Malone's response, which was essentially: "Oh yeah? Say it to my face."
"We've all become very brave when we're tweeting, texting, blogging. We just write, press send. I don't have time for that. Don't tweet it, don't blog it, don't text it, give me a little human element. I'm in town two or three times a month. Until I see [Miller] face to face, there won't be any more comment about Greg Miller. … He'll see me again.
The paper also
reported a statement from Sloan
, which, as you would expect, was total class. Sloan said that the team had his back, tried to get him to stay on as coach and that the family conducts itself with integrity.
Meanwhile, Williams, who had been criticized by Malone, emerged as the smartest person in all of this,
telling the Associated Press
: "I don't respond to people who talk about themselves in the third person."
Miller would have done well to heed Williams' advice himself. Malone is a legend, sure, but he is human and his personality quirks are well-documented. Family business is family business, and ranting for paragraph after paragraph against a valued former employee is simply never the right move for any business owner. It's one of those ancient axioms: you can't defend your reputation by smearing someone else's. You might feel better after venting but your method will be remembered far longer than your words.
It won't be long until regret sinks in. An apology from Miller -- if not to Malone, then to fans of the team for his expression of emotion -- is the likely next chapter of this story.