Posted by
Ben Golliver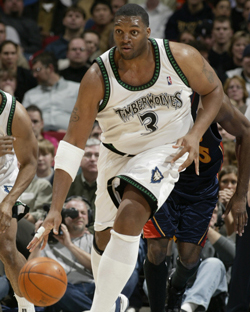 Oliver Miller is reportedly heading to jail on an assault charge.
(Getty Images)
The Big O is headed to the big house.
Former NBA player Oliver Miller has reportedly been sentenced to a year in jail after he was convicted of first-degree assault for
arrested for pistol-whipping a man
at a Maryland barbecue back in April.
HometownAnnapolis.com
has the details
.
[Judge Paul A.] Hackner sentenced Miller to five years of prison, suspending all but one year. He recommended work release and ordered five years of probation upon release. Miller is to have no contact with the victim, Jason Ray Worley, 32, and must complete anger management. His attorney, Paul Mack, called the sentence reasonable.

Prosecutors say at least three people saw Miller, known as "The Big O" during his nine-season NBA career, attack his girlfriend's brother, Worley, in front of the victim's home on Birchcrest Court in Arnold on April 17.

Deputy State's Attorney Thomas Fleckenstein said Miller got out of his car and "blindsided" Worley while he talked to his sister - Miller's girlfriend - using a handgun to repeatedly strike Worley in the face and head.
Miller, 41,
plead guilty
to the first-degree assault charge in November. He was facing up to 25 years in prison but had no prior convictions.
Miller, who has reportedly tipped the scales at
more than 400 pounds
, played nine seasons in the NBA, averaging 7.4 points, 5.9 rebounds and 2.2 assists per game. The journeyman center played for the Phoenix Suns, Detroit Pistons, Toronto Raptors, Dallas Mavericks, Sacramento Kings and Minnesota Timberwolves.
Hat tip: HoopsHype.com