Posted by
Ben Golliver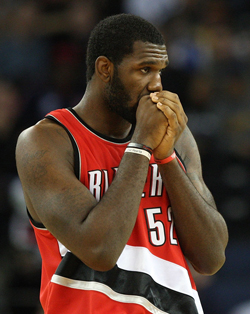 Greg Oden will undergo yet another knee surgery.
(Getty Images)
The Portland
Trail Blazers
announced on Friday that oft-injured center Greg Oden has gone under the knife again.
Oden underwent a succcessful arthroscopic procedure on his right knee on Friday in Vail, CO. He underwent microfracture knee surgery on his right knee in Sept. 2007.
Blazers Acting GM Chad Buchanan told CBSSports.com that a similar procedure could be required on his left knee as well.
"There's a chance that he may go undergo a similar procedure on his left knee in the coming days," Buchanan said. "That is to be determined. The doctors felt like after looking at the latest MRI in both knees, they wanted to take a closer look at both things."
Oden fractured his left patella in Dec. 2009 and underwent microfracture surgery in Nov. 2010. He has not had a firm recovery timeline since the most recent procedure and has not appeared in a game since December 2009.
"He's still considered out indefinitely," Buchanan said.
In addition to these procedures, Buchanan wouldn't rule out the need for further surgeries.
"It's hard to eliminate anything at this point," he admitted.
In a statement posted on Facebook, Oden said he would continue his rehabilitation after the procedure.

"I'm sure you've all heard the news by now that I'm having a scope on my knee today," the statement read. "Unfortunately after months of intense rehab and training, the doctors discovered that a scope is necessary at this time. Thankfully this should be a quick recovery and I'll be back to training soon. I'm committed as ever to doing everything and anything to get back on the court and be a part of the team's success."

Oden, 24, has played in 82 games since being selected as the No. 1 pick in the 2007 NBA Draft. Oden's career averages: 9.4 points, 7.3 rebounds and 1.4 blocks per game.