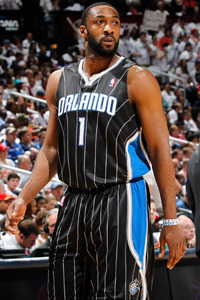 A former teammate of Arenas says he received the same treatment Kobe Bryant had on his knees.
(Getty Images)
By Matt Moore
Gilbert Arenas has not been productive on the floor in a good, long time. Knee injuries robbed him of his explosiveness, but also of his ability to create space for his jumper and lateral quickness. He had a handful of moments for Orlando but in the end gave the
Magic
very little in terms of a pace-changer guard. He's been on the shelf since being amnestied and
recent reports linked an interest
in the
Lakers
to sign him. But what are they getting, physically, at this point, if they do acquire Arenas?
Turns out he could be feeling much better.
Arenas is known to be very close with
Nick Young
, who he mentored in Washington during the end of his time with the
Wizards
. Wizards blog TruthAboutIt.Net asked Young how Arenas was doing, and Young said Arenas has done some things to fix his knee.... alongside the Kobe way.
You said you talk to Gilbert just about every day. How is he doing? Is he just down in Orlando working out?

"Yea, he's been working out. He said he got the — I don't know if I'm supposed to say this — but he got that Kobe treatment on his knees…"

"Yea, yea… you could say it's the Kobe System, but he said it feels great, his knees feel great, and he's been working out. When I seen him last time, he looked like he was in shape. He lost a lot of weight."
via
Truth About It » Gilbert Arenas To The Lakers? What Nick Young Thinks
.
If it's true that Arenas did get the same procedure and the results are similar, Arenas could have a Tracy-McGrady-like resurgence for L.A. or whoever winds up signing him. But there's a lot more that would need to fall in place. His conditioning has to be the biggest issue. Losing weight is great but game condition goes beyond that and into endurance and pacing.
Most importantly, Arenas needs to find his jumper. Having lift off the knees will help, but Arenas is a jump shooter who's shot largely abandoned him. He's got to rediscover that in order to be a productive player again.