Posted by
Ben Golliver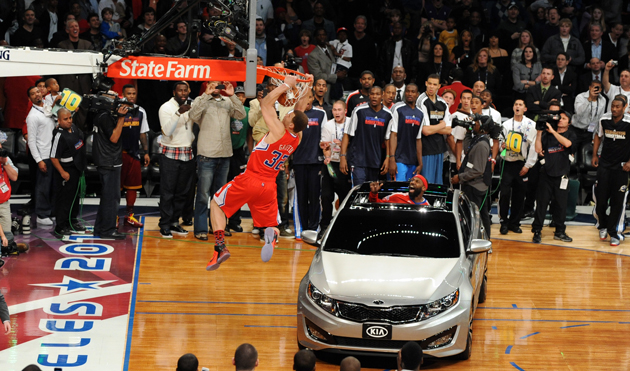 Blake Griffin says he does not plan to defend his Dunk Contest crown.
(Getty Images)
You can hear the Kia executives breaking down in tears around the world.
Los Angeles
Clippers
All-Star forward Blake Griffin said Thursday that he does not plan to defend his 2011 Slam Dunk Contest title.
ESPNLA.com reports
that Griffin plans to take it easier during the 2012 All-Star Weekend in Orlando than he did at 2011 All-Star Weekend in Los Angeles.
"As of right now I don't plan on being in it," Griffin said Thursday night. "Those dunk contests aren't my thing, I said that last year. There's a lot of guys that can put on a great show and do some good stuff."

"Last year was hectic and it kind of made it unenjoyable," Griffin said. "So this year, we'll see what will happen, but I will try to tone it down a bit and get a break instead of being so busy."
Griffin won the 2011 Dunk Contest by
jumping over a Kia
while catching an alley-oop pass from then teammate
Baron Davis
. His absence would take a lot of steam out of this year's contest, considering that he was the one All-Star who appeared in the 2011 version. Love him or hate him, you can't replace him.
Earlier this week, Griffin threw down
arguably the dunk of the year
, posterizing Oklahoma City
Thunder
center
Kendrick Perkins
.
Miami
Heat
All-Star forward
LeBron James
said that he is giving consideration
to participating in this year's Dunk Contest, although nothing is finalized. James has made similar indications in previous years but has yet to participate.
On Thursday,
the NBA announced
that Griffin, 22, was voted by the fans to the starting lineup of the Western Conference All-Star team.