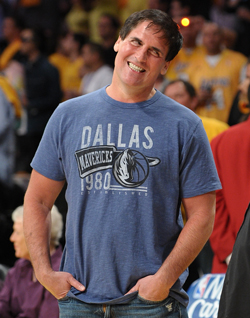 Mark Cuban should probably warm up that checkbook.
(Getty Images)
Posted by Royce Young
Mark Cuban has been fined hundreds of thousands of dollars over the years for things said about and to officials. And I think he better prepare to get that checkbook ready to write another check to the league office.
Cuban, upset about the officiating and the
Mavericks
95-86 loss Wednesday to the
Thunder
, let loose after game.
Via ESPN Dallas
:
"Look, I haven't said a whole lot about the officiating in a long, long time, but I haven't seen it this bad in a long, long time," Cuban said. "Guys miss calls; that's part of the game. You're not always going to have a great crew. Officials have got to learn that's part of the game.

"But these were officials that have been part of the league for years, and it was just off-the-charts bad. And, if no one ever says anything, nothing ever happens."
Mavs coach Rick Carlisle was ejected early in the fourth quarter for picking up a second technical foul, the last one for punting the ball into the stands. The crew who tossed Carlisle weren't household names -- Ron Garretson, Michael Smith and Mark Ayote.
"It all comes down to this: I understand that it's tough for the officials now," Cuban said. "They're going through the same travel stress as everybody else, but there's absolutely no transparency right now. I mean, you get games like tonight where it was just horrible. Who knows, I'm not saying it impacted the game, but you can just start naming the calls.

"All I'm saying is some of these guys are bad. Let me rephrase that. Some of these guys are having really bad nights, and it's having an impact. The league's got to come out and say, 'OK, look, we understand they're going through some tough travel or whatever. It's just the way it is.' Otherwise, if that's not an impact, you have to wonder how some of these crews are still on the court."
The free throw disparity really wasn't anything outrageous as Oklahoma City went to the line 33 times compared to Dallas's 25. And that's with the Mavs fouling a little at the end because of the Thunder's lead. But it was a couple of other calls that irked Cuban.
"Then they'll call three seconds on Yi [Jianlian] because it's Yi, and that's it. I mean, it's just ridiculous. Something needs to be done; someone needs to stand up and say something. So here I is.

"If no one ever says anything, nothing ever happens. We turn in stuff not after every game, but we turn in stuff all the time and we get 'inconclusive; inconclusive; yeah, we missed this; yeah, we got it right.' That's all fine and good, but there's nobody reporting to us on accountability. And that needs to change.

"There's a lot of guys and teams that aren't having great starts to the season and there's a lot of crews that aren't having great starts to the season," he said. "The league needs to make some adjustments, because you can't have it like this all the time."