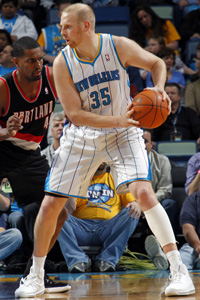 The Rockets are reportedly pursuing Chris Kaman in a trade.
(Getty Images)
By Matt Moore
Chris Kaman
is apparently a thing, now.
The one-time All-Star traded from L.A. to the
Hornets
has been benched for the time being while the team attempts to trade him. There were talks that Kaman could be bought out, but a report from Sports Illustrated indicates that it may not get that far, because the Rockets are hot to trot for him. From SI.com:
While no deal is imminent and the pieces are still being discussed, sources said the talks have involved the Rockets' two top-10 picks from the 2009 draft -- center Hasheem Thabeet (No. 2 by Memphis) and power forward Jordan Hill (No. 8 by New York). The Rockets have other young former first-rounders who could be included as well, among them second-year forward Patrick Patterson, third-year point guard Jonny Flynn and third-year small forward Terrence Williams. They also have a 2012 first-round pick from the Knicks that the Hornets would love to obtain.
via
Houston Rockets discuss acquiring Chris Kaman from Hornets - Sam Amick - SI.com
.
This comes
after another SI report indicated
that the Sixers are out of the running for Kaman, prefering to hold on to their valuable assets despite short-term injuries to both of their centers,
Nikola Vucevic
and
Spencer Hawes
.
For the Rockets, a simple question.
Why?
This is a team badly in need of a star player. They need a quality starting scorer, a franchise player, someone to take them from the "borderline 8th seed, one-and-done at best" mediocrity they've settled into and towards a future of contention.
Chris Kaman is pretty much the opposite of that.
It's certainly true that Thabeet is nothing to give up for Kaman. But Jordan Hill
is posting a 19 percent-plus rebound rate
, playing pretty solid defense for a third year guy, and shooting over 50 percent. Is he a good basketball player, yet? No, but he's more than acceptable, and has room to grow. Better still, he's a movable contract. Why would the Rockets send out a quality young player and a draft pick they can move later for a 29-year-old on an expiring contract? Kaman is a quality center when healthy, but he's not something to build around. But if the Rockets really want to make a run this season with
Kyle Lowry
,
Kevin Martin
, and
Luis Scola
, sure, Kaman's as good a center as any, even if the have
Samuel Dalembert
.
It's also possible the Rockets are clearing cap space for the summer. The question then is who they're targeting if not in trade.
All around, a confusing situation surrounding Kaman.