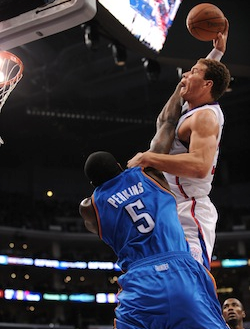 Pretty much everyone freaked over Griffin's dunk over Perkins. Kevin Durant? Not so much.
(Getty Images)
Posted by Royce Young
Did you see
Blake Griffin
's dunk on
Kendrick Perkins
? Of course you did. And you probably did one of a few things. You said, "OHHHHH!!!!" you shook your head or you passed out in terror.
It was an
amazing
play.
But one guy wasn't impressed and he has a better look than any of us.
"I have no appreciation for it at all,"
Thunder
star Kevin Durant told reporters Wednesday,
via the Oklahoman
.
You shouldn't be surprised by that though. Durant's also a guy that when asked if he was happy for
Dirk Nowitzki
to get to the NBA Finals last year,
he said
, "I'm not happy for him at all." Durant isn't going to play the game where he says all the right things just to be nice. He didn't like Griffin cramming on his guy Perk and he didn't like all the attention it got either.
"It was a layup, I think," Durant said. "He threw the ball in and got fouled and made a free throw. So it's three points at the end of the day."
It was in fact a dunk, by definition, but that's not the point. Durant came away unimpressed by the Blake Show's poster of his teammate. But is that the problem? Because it happened to Durant's teammate?
"If it wasn't against us, maybe I would have said it was a good play," he said.
I love Durant but that could've been over my grandmother and I would say it was a good play. But I understand that Durant doesn't want to wave the pom-pons for Griffin. That's what being a good teammate is. He's not going to gush about something that likely embarrassed his boy Perk.
But it definitely wasn't a layup. If that's the case,
so was Durant's nasty poster
of
Brendan Haywood
in the Western Conference Finals. I don't want to live in a world where those aren't dunks.