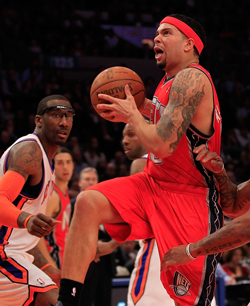 Posted by Royce Young
The clock is ticking on the
Nets
. Not just on their time in New Jersey as they prepare to move to Brooklyn, but also on
Deron Williams
. He's a free agent this summer and with the Nets not doing anything as of yet to convince him to stay, the Nets' gamble on Williams may turn out to be quite the swing and miss.
But Williams might add a little bit of time to that clock. He could, possibly, pick up his player option and therefore become a free agent in 2013.
"Yeah (picking up the option is something I'm considering). I don't know what I'm going to do,"
Williams told the New York Daily News
. "At the end of the season, I'm going to figure out what's going on, I'm going to sit down with my agent and look at every option possible."
Not exactly a glowing endorsement, but it's something. The fact Williams would admit he's considering it, even though he almost won't do it, is a little glimmer of hope that he enjoys the organization and believes in their plan.
Before the season,
Williams said he wouldn't be signing an extension
with the Nets. He also said though that it was
a 90 percent chance he'd stay with the Nets
. But potential suitors are lining up for him, most notably his hometown
Mavericks
. He's going to have options and he's going to want to go somewhere he can win and win now. He's been in a rebuilding situation for full year now with the Nets and he's not used to be in a losing circumstance.
If the Nets don't start lining up plans to get
Dwight Howard
soon, or at least something that helps Williams, he won't only pass on exercising that options, he'll pass on signing a new deal at all this summer and pack his bags for another city.