Posted by Royce Young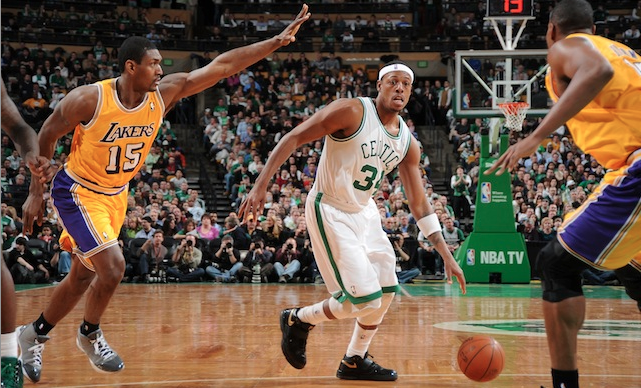 Are the Lakers and Celtics challengers for a championship, or for just a postseason appearance?
(Getty Images)
Almost every team has played 20 games so far this season, which is a pretty nice sample size to make a semi-educated judgment on just how good some are. We know there are a lot of competitive teams in each conference. Teams that have a quality roster, a decent record and a chance at the postseason.
But what's coming into focus more and more is who is for real and who is for fake. Not in the sense of who is actually good and who is fool's gold, but what teams should we be
really
watching for to make a push at a championship?
In the same way there's no reason to waste time saying the
Wizards
and
Hornets
are not contenders, I don't need to tell you that the Oklahoma City
Thunder
, Miami
Heat
and Chicago
Bulls
are obvious contenders. They aren't just contenders, they're the title favorites as of now. Those three teams have clearly separated themselves a bit from the pack, but that doesn't mean that there isn't another team lingering as a potential title threat. This time last season nobody was really looking at the
Mavericks
as a team poised to hoist the Larry O'Brien trophy.
So let's break down the current field of playoff contending teams and separate the contenders from the pretenders.
After an 11-4 start, a good number of people kind of came around from "They have to trade
Dwight Howard
right now" to "Maybe they should keep him and make a run at it." Now, after a week of complete stinkage, maybe it's time to take another good look at blowing the hinges off the organization and starting over. If you're consistently having trouble getting out of the 60s, you're not going to win a seven-game series against a good team.
Verdict: PRETENDER
Philadelphia 76ers
A 15-6 record and the best point differential in the league is not something to be ignored. A 4-4 road record indicates that maybe the Sixers aren't quite ready to step into the conversation of competing for the East. I'm going to choose to ignore that. The Bulls and Heat are clearly the class of the East, but it's not hard for me to picture the Sixers taking down one in a seven-game series. Their depth, defense and determination will have them right in any game they play.
Verdict: CONTENDER
Rewind to last season. Jerry Sloan had resigned and
Deron Williams
was traded. It was understandable that the Jazz would finish out the season in the lottery. That was the plan. Get younger, find some cap flexibility and plan for the future. Except that didn't work out. The Jazz aren't a franchise that deal with losing much so this season wasn't just going to be one of tanking. But they're overachieving. They have some nice wins on the resume, but a core of
Paul Millsap
, Al Jefferon and
Gordon Hayward
aren't making a title push.
Verdict: PRETENDER
I want to believe. I really do. The Pacers are a fun team and their resurgence over the past two seasons has been something else.
David West
was a nice addition and
Roy Hibbert
is playing really well. They've built up their resume with some good wins over the past couple weeks, but I don't see how they improved in the area that killed them last postseason -- fourth quarter execution.
Danny Granger
is a good player but can't shoulder the load of getting tough, key baskets in crunchtime. I can't see them beating the Bulls, Heat or even 76ers.
Verdict: PRETENDER
I almost didn't even include them in this list. And not for the reason the Bulls, Heat and Thunder aren't in it. Unless
Baron Davis
has a superpower in that beard, the Knicks aren't getting out of the first round, and that's if they even get there. Serious obstacles are going to have to be overcome before this team actually competes for a championship.
Verdict: PRETENDER
Dallas Mavericks
It appears the championship hangover is finally wearing off. But for a while there, the defending champs had us concerned. They looked flat, uninterested and worst of all, not as good after losing J.J. Barea,
Tyson Chandler
and
DeShawn Stevenson
. But the Mavs are finding their form a bit and if
Lamar Odom
can ever finally wake up, Dallas goes eight deep with a nice rotation. And as long as that tall German guy is on the roster, they're a tough matchup for anyone.
Verdict CONTENDER
As I was writing down the teams I needed to mention for this, I didn't have the Rockets. And then I looked at the West standings and their record and said, "Whoa, the Rockets are 12-9? When did that happen?" I think they're going to be players at the trade deadline, but as the team stands now, they're position in the West's top eight will probably be short lived.
Verdict: PRETENDER
San Antonio Spurs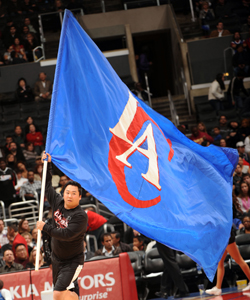 Could the Los Angeles Clippers -- the Clippers -- really be contenders?
(Getty Images)
You just wait. Gregg Popovich knows what he's doing.
Manu Ginobili
will be healthy soon and the Spurs are going to go on a run of games in late February or March where they win like 14 of 16 and rocket up to third in the West. It's coming. I know it is.
Verdict: CONTENDER
Los Angeles Clippers
I picked the Clippers to finish second in the West but also wrote
that they weren't a contender
. I'm confused about the Clippers. But they definitely showed a little something this past week with a win in Denver and a win against the Thunder. Part of the reason many doubted that the Clips were ready to contend was it looked like they needed another piece for some depth. But they may already have it as
Mo Williams
is making a strong case for Sixth Man of the Year. Two top 15 players, a monster rim protector inside, a solid identity and veteran leadership -- the Clips kind of have it all. Only two things are holding them back -- Vinny Del Negro and a 35-year history filled with miserable failure.
Verdict: CONTENDER
I'll put it simply: The Hawks made no dramatic improvements to a team that's basically been the definition of pretender and then their best player was injured for pretty much the rest of the season. Their winning record without
Al Horford
has been a bit of a mirage as they've fortunately found a soft spot in the schedule at the worst time. Playoff team, yes. Title contender? Nah.
Verdict: PRETENDER
For about five minutes, the Blazers had everyone talking about them as the prime contender to challenge Oklahoma City in the West. And then they lost their next five of eight and have slipped out of the top eight in the West. There's really not that much distinguishing this Blazer team from the one the was eliminated in last season's opening round. Is Ray Felton an upgrade over
Andre Miller
?
Jamal Crawford
an upgrade over Brandon Roy?
LaMarcus Aldridge
has become a legit superstar, but I don't see him carrying this roster to the Western Finals.
Verdict: PRETENDER
I fear the Grizzlies were that classic chic preseason pick that everyone kind of likes that ends up going down in flames. Some would call that the "Houston Texans Disease." But Memphis didn't stumble into the second round of the postseason by accident. They upended the Spurs and then were a seventh game on the road away from advancing to the Western Finals. They're an enigma right now without
Zach Randolph
, but if he comes back healthy, the Grizzlies could be a nightmare matchup for teams in the playoffs.
Verdict: CONTENDER
Boston Celtics
After all of that, the Celtics are back to .500. They're 10-10 and have eased some of the fears that they might miss the playoffs. But they haven't been able to restore confidence that they're a team that's dangerous in the postseason.
Kevin Garnett
can't jump, which is a problem. Their offense completely fizzles for long stretches. They're actually relying on key production from guys like
Mickael Pietrus
and
Chris Wilcox
. The Celtics aren't bad, but I think ubuntu is on life support.
Verdict: PRETENDER
Can team ball really win? Well, it's winning now and looking pretty darn good doing it. The Nuggets ran into a bad matchup last postseason and the Thunder took care of them in five games. I wouldn't say they necessarily improved this offseason after losing Wilson Chandler, Kenyon Martin and J.R. Smith while adding
Rudy Fernandez
,
Corey Brewer
and Andre Miller, but
Al Harrington
is playing wonderful basketball,
Ty Lawson
is blossoming and
Danilo Gallinari
shows flashes of being a star. Winning this way isn't easy, but I wouldn't rule the Nuggets out.
Verdict: CONTENDER
Los Angeles Lakers
The Lakers are 2-7 on the road. They've only scored 100 points three times this season. For any other team, we'd say that's a major red flashing sign that they aren't for real. For any other team, we'd look at their offensive struggles, their chemistry issues and the fact they're looking older than ever and easily write them off. But this is the Lakers, the home of
Kobe Bryant
and you don't do that. But I'm going to. Point guard is a massive issue, they have no depth inside and I still have absolutely no idea why they traded Lamar Odom for nothing. This team subtracted a key piece from a group that got swept out of the playoffs by the Mavericks and they expect that adding
Josh McRoberts
and a new coach is going to push them over the top? Unless the Lakers have a big trade coming down the pipe, the Lakers as currently constructed aren't going anywhere.
Verdict: PRETENDER