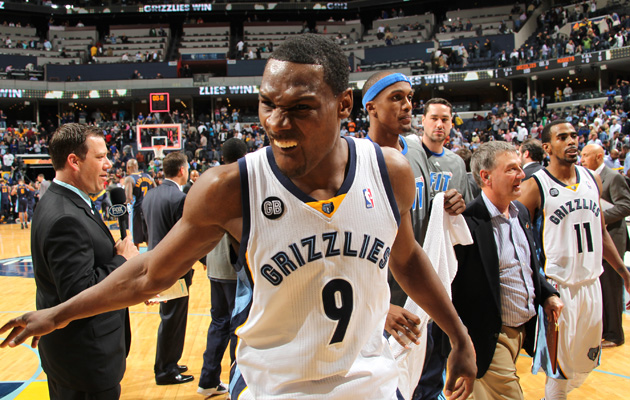 Memphis storms back to get a big win over Nuggets and stop a losing streak.
(Getty Images)
Your nightly report card wraps up the performances of the NBA night and provides grades on a curve. Tuesday night the Knicks found the cure for a night, the Grizzlies GrizzGrinded their way to a comeback, and the Celtics passed... barely.
By Matt Moore

Memphis Grizzlies

The Grizzlies were lost for much of the first half,
but got back to the constant effort and continual pressure
that makes them a dangerous team. All of a sudden their offense began to click,
Rudy Gay
started to get it going in steals, threes, and dunks, and
O.J. Mayo
began making plays as well as scoring. Throw in some tremendous defense by
Tony Allen
, and the Grizzlies steal a key game from Denver to get back on track. The Nuggets kept hammering them with offense, and the Grizzlies needed every single second in this one to get th win. Memphis pulls up out of its tailspin of late.
New York Knicks
(by Ken Berger, CBSSports.com)

I grade them on a curve because they're playing, you know, the
Pistons
. But the time off (in addition to lack of defense)
did wonders for Melo
. The Knicks moved the ball better than they have in a while and got good (mostly uncontested) shots as a result.
Boston Celtics

They won
. And outside of very few exceptions, if you win, you get a C- or better. So The Celtics get a C-, no better. They won, against a tough, gritty, feisty, whatever cliche term you want to use Cavs team. But the fourth quarter collapse was in effect again.
Kyrie Irving
gets two more shots that were awful close to drop and the Celtics are staring at their second meltdown against the Cavs in three days. Their offense gets out of control, their defense is the bigger concern. They continually have issues with defending inside in the last minutes of a game against pressure. They got the win. But there are problems still in Boston.

You've got to wonder if Gallo is injured. He simply did not have any part of his game working. Dribble, shooting, defense, rebounding, anything. If Gallinari plays any better the Nuggets likely win this game comfortably. Also wound up forcing other players to contribute more minutes, adding to exaustion with a tough schedule coming up.
Detroit Pistons

The Detroit Pistons, good for what ails you. Even the Knicks.