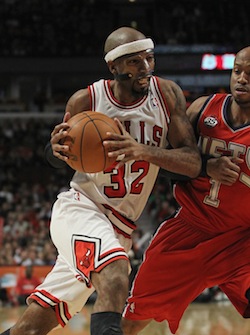 Richard Hamilton will sit for "a while" to heal an injured groin and leg.
(Getty Images)
Posted by Royce Young
Richard Hamilton was a pretty nice addition to the
Bulls
. But they would definitely like it more if he were playing. Hamilton has missed 12 of Chicago's 23 games this season because of a groin injury and right thigh bruise.
And he's likely to miss more,
via the Chicago Tribune
:
Hamilton admitted that he likely will sit for a while in an attempt to put the groin and right thigh bruise issues in his rearview mirror for good.

"It's frustrating, but I have to get healthy," Hamilton said.

It's the right move. Although Deng's situation will be a hovering story line all season because he has opted to try to avoid surgery, the ligament already is torn. And doctors have told him he can't make the injury worse by playing.
Hamilton said that he feels "like I'm playing on one leg sometimes." Which isn't the kind of Rip Hamilton the Bulls have in mind playing next to
Derrick Rose
. They want the guy running off screens, defending good 2-guards and providing an extra scoring punch in the Chicago backcourt.
They don't really
need
him in January and February. When they need Hamilton is in April and May, and possibly June. So if that means missing a couple games right now, then so be it. The Bulls want Hamilton healthy and ready to go for the postseason. Chicago should be just fine without him in the near future.