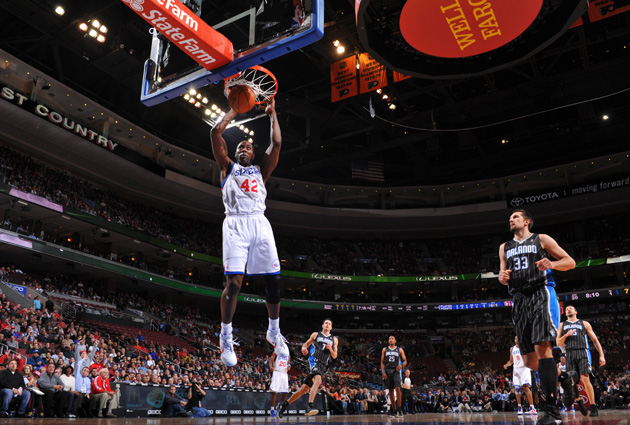 The Magic collapse continued against the Sixers Monday night.
(Getty Images)
Your nightly report card wraps up the performances of the NBA night and provides grades on a curve. Monday night LeBron did his thing, the Magic continued their separation from decency, and the Deer continue to become frightening.

Trevor Ariza
is going to have nightmares. 22 points in 29 minutes, along with 11 rebounds and 8 assists for James. That's at least, even if none of the assists were threes, 44 points in 29 minutes produced or contributed. That's absurd. To havethat kind of influence on the game in just 30 minutes is ridiculous. And hey, he didn't have to play in the fourth so he couldn't miss free throws. Bonus.

All of a sudden, the
Bucks
gunner is playing efficiently. 21 points on 8-15 shooting, 4 rebounds, 5 assists. Four turnovers is not great but overall, Jennings is making the Bucks motor go as they win again without
Andrew Bogut
. The Deer have officially re-entered fear territory, even against the
Pistons
.
Philadelphia 76ers

They were not worse than the Magic. That's pretty much all we've got on that.
Memphis Perimeter Defense

Matt Bonner
can only do one thing. Hit threes. The
Grizzlies
surrendered fifteen points from beyond the arc to Bonner alone, and 30 points overall from the perimeter. This against a team coming off overtime on a road back-to-back. Memphis is broken in all sorts of ways right now, but the perimeter defense was the culprit Monday night.
Orlando Magic

The Orlando Magic have been an offensively efficient team for the duration of this run with Stan Van Gundy and
Dwight Howard
. And this week has been a massive cratering we haven't seen since the asteroid that killed off the dinosaurs. But Monday night may have been the point where they actually blast a hole to the other side of the Earth. The Magic scored 9 points in the third quarter vs. the Sixers. Philly scored just 74 points... and won. This isn't the end of the world for the Magic... but you can see it from here.