Posted by
Ben Golliver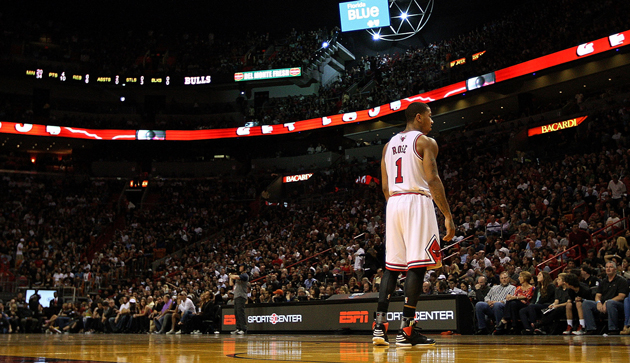 Derrick Rose came up short at the free throw line against the Miami Heat.
(Getty Images)
There's no lonelier place in basketball than the free throw line after a big miss. Reigning NBA MVP Derrick Rose was reminded of that fact on Sunday night.
Rose, a career 81.9 percent foul shooter who is shooting 85.6 percent so far this season, stepped to the foul line for two shots with 22 seconds left, and his
Bulls
trailing the Miami Heat, 94-93.
SheridanHoops.com noted
that Rose had not missed a free throw in the fourth quarter during the 2011-2012 season until he missed both in the clutch, helping send the Heat to a 97-93 victory in a rematch of the 2011 Eastern Conference Finals.
Rose was 26-for-26 on fourth-quarter free throws heading into the game. He was also on a second-half tear, having scored 21 points, many by getting to the rim after carving up Miami's defense in typical Rose fashion. Rose was on an even bigger free throw roll. He was a perfect 12-for-12 when he stepped to the line with the game in the balance and inexplicably bricked both shots.

"Give me one of those," Rose lamented. "I missed both of those (expletive). Come on."
ESPNChicago.com reports
that Rose had trouble processing his late-game shortcomings afterwards, despite scoring a team-high 34 points and dishing 6 assists.
"This is so unreal right now," an emotional Rose said. "Knowing that I had the chance to change the game, and this time it didn't work out. I know my will to win is still very high, but I guarantee the next time those shots are going down."

"It was definitely tough," Rose said. "All I can say is I guess God [does] everything for a reason. I've been in those situations before, knocked them down, but to miss both [free throws] -- I let my team down. The only thing I can do is learn from it... If I would have hit them free throws, it never would have gotten that far. I know I can live with it. It's just going to make me a stronger player and it's onto the next game."
As Chicago's chief ball-handler and most lethal offensive weapon, Rose is constantly in the position to decide games for the Bulls. Since the start of the 2010-2011 season, Chicago is 79-25, so he's clearly coming up big in crunchtime far more often than he's falling short.
But we shouldn't act like this is Rose's first free throw adventure in his lifetime.
In the 2008 NCAA title game, Rose had the opportunity to put away the Kansas Jaywhawks with a pair of free throws with 10.8 seconds remaining in the second half. His Memphis Tigers were leading 62-60 when he stepped to the stripe with the chance to make it a two-possession game by making both. Instead, Rose missed the front end, allowing a late 3-pointer by Jayhawks guard
Mario Chalmers
to send the game into overtime, where Kansas completed the miracle comeback to take the title.
The 19-year-old Rose's post-championship
message to the Associated Press
back in 2008 was a bit different than the one after Sunday's loss.
"It wasn't really the free throws," Rose said. "If we'd done things before the free throws, we would've been in good shape."
Rose was correct then, in part. His free throw miss -- and earlier misses by
Chris Douglas-Roberts
-- were not the sole determining factor of the game. Technically, it's impossible to argue that a single play ever decides a game. But his miss then was absolutely crucial and it changed history.
His path has been a long, busy one in the nearly four years since that loss at Memphis. He's been all the way to the East Finals, all the way to franchise player status, all the way to a super-lucractive, almost 9-figure contract extension. The fact that his free throw misses weren't the sole determining factor in Sunday's loss hasn't changed. But his message, given the last four years worth of developments, should have changed, and it did.
And it did. Rose took responsibility, repeated his well-known desire to win, expressed a desire to improve, and guaranteed to make amends for the shortcoming in the future. There's nothing more that anyone could reasonably ask of him. He might have lost at the free throw line but he won in the locker room.
All that's left now is to deliver on that guarantee.